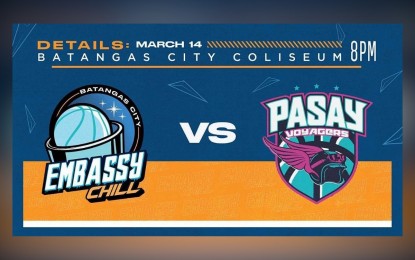 MANILA – Complacency has no place in coach Cholo Villanueva's Batangas City Embassy Chill in the Maharlika Pilipinas Basketball League (MPBL).
His team reached the Southern Division finals last year but this season is a totally different ballgame.
"It's back to zero. It doesn't mean that because we were in the division finals last year, we're guaranteed to be in it again this year," Villanueva, a former De La Salle Green Archer, said in a news release.
The Embassy Chill will kick off the 2023 regular season against the Pasay City Voyagers at 8 p.m. Tuesday at Batangas City Coliseum.
Among the things that Villanueva wants the team to build on is their composure down the stretch, especially when they have a big margin.
"Knowing how to execute and finish the game strong are things we need to improve on this year," Villanueva shared.
He also wants the team to have a quicker pace and continue with its defensive identity of limiting bigger opponents.
Batangas City Embassy Chill still has its core players -- Rudy Lingganay, Jeckster Apinan, Cedrick Ablaza, John Rey Villanueva, and King Importante -- and are beefing up with new firepower.
"After last year's performance, we assessed the needs of the team. We added another guard, CJ Isit, who can help with our guard rotation. We also added two versatile forwards, Oneal Arum and Raffy Oktubre. Overall, we should be better than last year with these additions. They can also help us achieve what Coach Cholo wants to develop, that is playing at our own pace," said team manager Jean Alabanza.
Gerry Tee, Tanduay Distillery general manager, said the team is committed to grassroots sports development, espoused by the late Lucio Tan Jr., who revived the franchise.
Tee said Tan would always emphasize the importance of good health through sports and wanted to give talents from the village level the chance to make it to the bigger leagues.
"He would also remind us to make sure that discipline, sportsmanship, and camaraderie are in all our undertakings. He values winning and he sees losing as a lesson. He used to say that it is only in losing that you can truly value success, whether in basketball or business, and he wanted our players to keep this in mind," Tee said.
Marc Ngo, Tanduay senior brand manager and International Business Development manager, said that through Tanduay Athletics, they "aim to promote sports by supporting and nurturing Filipino athletes to reach their maximum potential."
"In order to do this, Tanduay Athletics will provide coaches in grassroots programs, targeting young Filipinos who are looking to develop their skills in their respective sports. Tanduay Athletics will also sponsor and organize different sports leagues around the Philippines to provide an avenue for aspiring athletes to show off their skills for potential college and pro careers," he said.
Meanwhile, Nueva Ecija opened its title-retention bid with a 97-70 whipping of Laguna at Star Arena in Baliuag, Bulacan on Monday. (PNA)