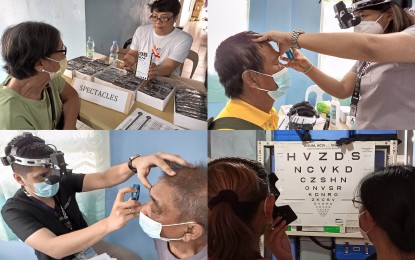 MALASIQUI, Pangasinan – About 217 diabetic patients in La Union province are set to undergo free glaucoma and cataract surgery through the initiative of the Department of Health - Center for Health and Development (DOH-CHD) 1 (Ilocos Region).
In a statement issued on Tuesday, DOH-CHD-1 communication management unit officer Glen Ramos said they were referred to the Ilocos Training and Regional Medical Center (ITRMC) for surgery after they were screened during the mobile diabetic retinopathy screening being conducted in the different localities of La Union.
"The patients will be treated according to their scheduled operation," Ramos said.
Regional Program Manager of Essential Non-Communicable Disease Francisco de Vera Jr. said the mobile eye screening initiative aims to ensure the prevention of blindness among patients with diabetes, thus improving their vision and quality of life.
"We are now on its second-year implementation, visiting identified municipalities with a high prevalence of diabetes," de Vera said.
He said they also plan to eventually accommodate more patients, including non-diabetic patients with eye problems.
"Marami rin kasi sa ating mga senior citizen na nanlalabo na ang mga mata due to old age at kailangang dumaan ng eye screening upang mabigyan ng mga eyeglasses na me tamang grado para magamit nila sa pang araw-araw nilang gawain (A lot of our senior citizens have eye problems due to old age and they need eye screening so they could be provided with eyeglasses with the right grade, which they could use in their daily activities)," de Vera said.
Eye screening is being conducted specifically in geographically isolated and disadvantaged areas. The schedules are announced by the DOH-CHD-1 on its Facebook page.
DOH-CHD-1 assistant regional director Rodolfo Antonio Albornoz said both glaucoma and cataract could cause loss of sight and occur more commonly in people with diabetes, with the only treatment being surgery.
"Glaucoma causes vision loss and blindness by damaging a nerve in the back of your eye called the optic nerve while cataract is the cloudy area in the lens of the eye, which blurs the vision and is common as a person gets older," he said.
Albornoz said the program would be a big help to diabetic patients to prevent further damage to their eyes by giving them free surgery and medicine. (PNA)