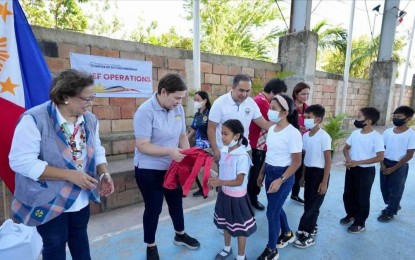 SAN JOSE DE BUENAVISTA, Antique – After witnessing the extent of the oil spill damage, Vice President and concurrent Department of Education (DepEd) Secretary Sara Duterte has assured more support for victims in Antique province who lost their livelihood.
During her visit to Barangay Semirara in Caluya town on Monday, Duterte informed Antique Governor Rhodora Cadiao and Caluya Mayor Rigil Kent Lim that she would be sending 500 sacks of rice for the affected families.
Data from the Antique Provincial Disaster Risk Reduction and Management Office showed that as of March 13, there were 8,387 families or 30,226 individuals affected by the oil spill.
"We expect the sacks of rice from the OVP (Office of the Vice President) to be transported to Caluya anytime soon," Cadiao said, in a follow-up interview on Tuesday.
Cadiao added the Vice President, in an aerial inspection, saw the extent of the damage of the oil spill in Barangays Sabang, Liwagao and Semirara which prompted her to commit more assistance.
During the visit, Duterte also distributed PagbaBAGo kits containing school supplies for 991 learners from six schools in Caluya. The PagbaBAGo campaign is a program that aims to instill the importance of basic education and nurture the right attitude among young Filipinos to succeed in life.
Teachers at the Tinogboc Elementary School, meanwhile, received cash assistance of PHP2,000 each.
"Vice President Duterte is also planning to put up a satellite office in Culasi, Antique so that the people could easily access the services of the OVP," Cadiao said, adding the satellite office will also serve the neighboring province of Aklan.
"With the OVP satellite office, people needing financial assistance, especially for their health needs could easily ask for help," Cadiao said.
In a separate interview, DepEd Antique chief of School Governance and Operations Evelyn Remo said Vice President Duterte has provided 350 PagbaBAGo kits to learners of Caticlan Elementary School in Caticlan town, Aklan province.
"In Caluya, Vice President and Secretary Duterte reiterated the importance of addressing the learning gaps due to the pandemic among DepEd personnel," Remo said.
Duterte, who was the guest of honor during the Banigan Festival of the municipality of Libertad on March 13, took time to meet DepEd personnel and learners as part of her itinerary.
The Banigan Festival is an annual event in the northernmost town of Antique known for its mat weaving. (PNA)