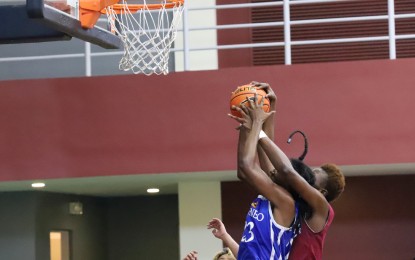 MANILA – As part of celebrations for next year's Paris Olympics, the French Embassy organized a basketball match for the "Terre de Jeux 2024" at the University of the Philippines (UP) main campus in Diliman, Quezon City on Tuesday.
Michele Boccoz, French Ambassador to the Philippines, graced the simple program highlighted by a tune-up game between the UP and Ateneo women's teams.
Boccoz said choosing basketball as main theme was a no-brainer, seeing Filipinos' passion for the sport.
"Since I arrived in Manila, I saw that Filipinos are into sports and basketball is almost like a religion! I always see a basketball court near the church wherever I go. So as we join the global relay from one time zone to another, we thought of featuring basketball as the sport is most representative of the Philippines," Boccoz said in an interview.
Last year, the organizing committee of the Paris 2024 Olympic and Paralympic Games and the French Ministry of Europe and Foreign Affairs launched the campaign Terre de Jeux (Land of the Games), a 24-hour sports relay around the world organized by over 60 French diplomatic missions.
The French Embassy in Manila, with the support of the Intramuros Administration, organized a three-kilometer run and bike ride and a symbolic passing of the relay from Japan to the Philippines and from the Philippines to Cambodia on April 6, 2022 around Fort Santiago in Manila.
The Paris Games will be held July 26 to Aug. 11, 2024, followed by Paralympics from Aug. 28 to Sept. 8.
While the game was meant to be mainly for fun, it was intense inside the court, especially in the second half when the Lady Maroons completed a comeback from a sloppy first half to stun the Blue Eagles, 72-70.
"We take it seriously sa game namin. Tune-up game lang ito, pero hindi namin tini-treat na friendly lang. Tini-treat namin na serious 'yung game para makita namin kung anong pwedeng ma-improve ng team (This may just be a tune-up game but we don't treat it as a mere friendly. We're treating the game seriously so we can see what our team can improve on)," UP's Christie Bariquit said after the game.
Despite the defeat, Ateneo coach LA Mumar is honored that his team was chosen as part of the Terre de Jeux.
"It's an honor for us to represent Ateneo and also the Philippines with this. It's a great opportunity to represent the school and also women's basketball," Mumar told the Philippine News Agency in a separate interview.
Thailand will be the next stop of the Terre de Jeux. (PNA)