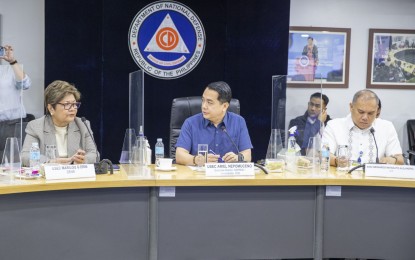 MANILA – The National Disaster Risk Reduction and Management Council (NDRRMC) assured Oriental Mindoro provincial officials that the national government will be conducting integrated interventions to mitigate the effects of the oil spill in the province.
This came after the coordination meeting on Wednesday held by officials and representatives of the NDRRMC member agencies, local government units that tackled the reinforcement of the ongoing response operations following the oil spill from the sunken M/T Princess Empress last Feb. 28.
The meeting was headed by Undersecretary Ariel Nepomuceno, NDRRMC executive director and Office of Civil Defense (OCD) administrator, focused on the prioritization of action points to support the response operations being implemented by the Philippine Coast Guard, various government agencies and local government units.
"Undersecretary Nepomuceno assured Oriental Mindoro Governor Humerlito Dolor during the meeting who raised concerns on the impacts of the oil spill in the province, that the national government will ensure the conduct of integrated interventions to address the effects of the oil spill," OCD spokesperson Assistant Secretary Bernardo Rafaelito Alejandro IV said in a statement Wednesday.
Also discussed in the meeting were the enhancement of government capabilities on oil spill management and containment, the linkages for the immediate provision of equipment and resources, streamlining of the entry protocols for response teams and the review of the existing oil spill contingency plan.
Early recovery interventions done by agencies for the affected communities were also reported, including the cash-for-work program led by the Department of Environment and Natural Resources with funding from the Department of Social Welfare and Development (DSWD) and support from the Department of Labor and Employment through "TUPAD" or the "Tulong Panghanapbuhay sa Ating Disadvantaged/Displaced Workers".
To assist the response operations, a vessel from Japan is expected to arrive in the country. The government of Japan recently sent its Coast Guard personnel and equipment to help manage the incident.
The oil spill has already affected 31,497 families in MIMAROPA and Western Visayas. Livelihood of 13,654 farmers and fishermen was also affected by the oil leakage.
Meanwhile, as of Tuesday, a total of PHP23.9 million cost of assistance was provided by the OCD, DSWD, local government units, the Department of Health (DOH) and non-government organizations.
On March 3, a regional task force, headed by OCD MIMAROPA for oil spill containment, cleanup and emergency response was created through NDRRMC Memorandum No. 14, series 2023.
The task force member agencies include the MIMAROPA offices of the Department of the Environment and Natural Resources, Department of Interior and Local Government, DSWD, DOH, as well as the Bureau of Fire Protection, Philippine National Police, Philippine Coast Guard (PCG) Southern Tagalog District, Armed Forces of the Philippines Southern Luzon Command (AFP-SOLCOM) and the MIMAROPA local government units.
Four response clusters of the NDRRMC namely logistics cluster led by OCD, food and non-food items by DSWD, health by DOH, and search, rescue and retrieval by the AFP were activated.
Other response clusters were put on standby status. (PNA)