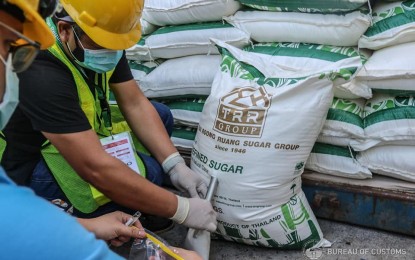 MANILA – Bureau of Customs (BOC) Commissioner Bienvenido Rubio vowed to sustain the government's relentless anti-smuggling campaign over a month since he took over the agency's helm.
In a statement Wednesday, Rubio said the BOC's heightened campaign also resulted in the filing of criminal cases before the Department of Justice (DOJ) against unscrupulous importers.
"We strongly condemn those unethical acts of fraudulent importers as they endanger the health and safety of local consumers and negatively impact the livelihood of local farmers and businesses," he said.
Since Rubio's appointment on Feb. 13, the bureau has issued five warrants of seizure and detention against several smuggled agricultural products.
The most recent operation was the physical examination of 58 containers with 30,000 sacks of misdeclared refined sugar at the Subic Bay New Container Terminal on March 2.
Rubio together with Department of Agriculture (DA) Assistant Secretary James Layug witnessed the examination of the sugar shipment with an estimated value of PHP150 million.
Furthermore, the BOC filed four criminal cases before the Department of Justice against importers presumed to have smuggled agricultural products, violating Republic Act 10863, otherwise known as the Customs Modernization and Tariff Act (CMTA), Department of Agriculture – Administrative Order No. 09, series of 2010 (DAO No. 09-2010) and Sections 3 and 4 of Republic Act No. 10845 or the Anti-Agricultural Smuggling Act of 2016.
At the same time, Rubio met with Justice Secretary Jesus Crispin Remulla where they discussed the DOJ-BOC Task Force and enhance measures in the prosecution of cases on March 8.
Both agencies also revisited several policies and circulars to resolve bottlenecks and streamline communications and procedures for case processing.
"As we heighten our intelligence and enforcement measures to thwart smuggling attempts of unscrupulous importers, we also ensure that those found guilty face the maximum lawful consequences they deserve," he added.
The BOC attributed the success in apprehending illicit goods to its proactive collaboration with partner agencies such as the DOJ, DA, Philippine Coast Guard, Philippine National Police, Armed Forces of the Philippines, and the National Bureau of Investigation, among others. (PNA)