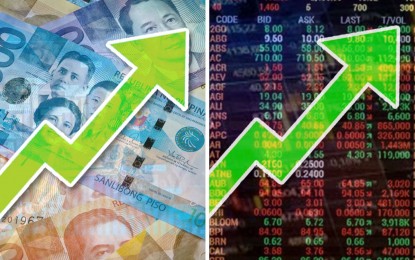 MANILA – The local bourse's main index recovered on Wednesday amidst concerns on the banking sector in the United States while the peso gained against the US dollar.

After a five-day slide, the Philippine Stock Exchange index (PSEi) rose by 1.14 percent, or 72.77 points, to 6,466.10 points.

All Shares followed after it increased by 0.70 percent, or 24.04 points, to 3,478.52 points.

Half of the sectoral indices also inched up during the day --Industrial, 1.76 percent; Financials, 1.67 percent; and Holding Firms, 1.48 percent.

On the other hand, Mining and Oil fell by 0.52 percent, Property by 0.44 percent and Services by 0.07 percent.

Volume reached 1.19 billion shares amounting to PHP11.07 billion.

Advancers led decliners at 103 to 80, while 48 shares were unchanged.

Luis Limlingan, Regina Capital Development Corporation (RCDC) head of sales, said "investors shook off fears that recent banking turmoil would spread to the broader sector."

Limlingan cited the slower inflation rate in the US last February, which expanded by 6 percent year-on-year and by 0.4 percent relatively to last January's.

"Back home, investors continued to assess the SVB (Silicon Valley Bank) meltdown as the index tried to inch back closer to 6,500," he said.

Meanwhile, prices of oil fell in the international market due to the banking developments in the US and the within-expectations consumer price index (CPI) in the US last February.

Limlingan said these factors "sparked fears of a fresh financial crisis that could reduce future oil demand."

Brent crude oil futures slipped by 3.1 percent to USD 78.24 per barrel and the West Texas Intermediate (WTI) by 3.35 percent to USD72.32 per barrel.

PSEi's recovery was mirrored by the peso after the local currency finished the day's trade at 54.93 to a US dollar from its 55.17 close a day ago.

It opened the day at 55.05, an improvement from Tuesday's 55.17 start.

It traded between 55.08 and 54.79, resulting in an average of 54.919.

Volume reached USD1.07 billion, higher than the previous session's USD779.8 million.

Rizal Commercial Banking Corporation (RCBC) chief economist Michael Ricafort said the rise of overseas Filipino workers (OFW) remittances last January, the correction of the US dollar against other major currencies and the decline in global oil prices contributed to the appreciation of the peso.

"The peso (is) still relatively stable at familiar ranges recently after the recent signals from local monetary authorities that they are ready to use tools available in the policy toolkit to help stabilize inflation, such as further local policy rate hikes amidst expectations of additional Fed (Federal Reserve) rate hikes recently, as this could also support more comfortable interest rate differentials that somewhat support the peso," he said.
Ricafort forecasts the peso to trade between 54.85-55.05 to a greenback on Thursday. (PNA)