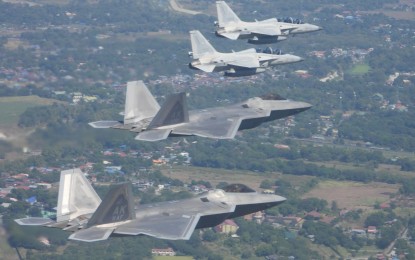 MANILA – Two of the United States Air Force's (USAF) premier stealth fighter aircraft, the Lockheed Martin F-22 "Raptor" along with its Boeing KC-135 "Stratotanker" aircraft, landed and visited Clark Air Base, Pampanga for a so-called bilateral fighter "subject matter expert exchange" (SMEE) on March 13.
In a statement Wednesday, Philippine Air Force (PAF) spokesperson Col. Ma. Consuelo Castillo said the bilateral fighter SMEE is part of the Air Force's Mutual Defense Board-Security Engagement Board (MDB-SEB) activities for 2023.
This also includes PAF engagement opportunities with the USAF's Pacific Air Forces (PACAF).
PAF fighter pilots and other personnel from the 5th Fighter Wing, Air Defense Command participated in the bilateral fighter SMEE.
Castillo said bilateral exchanges focused on the capabilities of fighter aircraft operated by the two Air Forces as a prelude to other upcoming engagements to promote air domain awareness, agile combat employment, interoperability and other bilateral air objectives.
"Notably the USAF, PACAF brought in two F-22s and one KC-135 aircraft which were placed on static display for the appreciation of PAF commanders and aircrew," Castillo said.
Observers said this is the first time these high-tech stealth aircraft visited the Philippines.
She added that the PACAF delegates were welcomed by Air Defense Command chief Maj. Gen. Augustine S. Malinit.
On March 14, Castillo said an F-22 and the KC-135 tanker aircraft conducted an air-to-air refueling demonstration before being escorted out of Philippine airspace by three PAF FA-50PH light jet fighters.
The F-22 is a single-seat, twin engine, all weather stealth tactical fighter aircraft. It was designed as an air superiority fighter but also has ground attack, electronic and signal intelligence capabilities. (PNA)