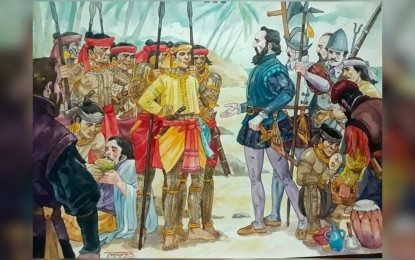 TACLOBAN CITY – The town of Guiuan in Eastern Samar has lined up activities to commemorate the 502nd first circumnavigation of the world led by Ferdinand Magellan.
Guiuan Mayor Annaliza Gonzalez-Kwan said the town takes pride in being part of the first circumnavigation of the world and the first-ever Philippine-Spanish contact.
"We are not only celebrating the first contact with the Western people led by Magellan, but we are also celebrating and highlighting the hospitality and humility that Filipino shows to the foreigners who were desperately in need of help when they arrived because of hunger, sickness, and some are almost dying," Kwan said in an interview Thursday.
The town lined up activities from March 14 to 18, 2023 related to the anniversary, which includes a trade fair and a forum called "The 1521 Magellan Landing in Homonhon Island Revisited" with Eastern Visayas resident historian Rolando Borrinaga as speaker.
Highlights of the weeklong activities are the wreath laying of markers installed in historic sites erected by the National Historical Commission of the Philippines (NCHP).
Three of the 34 historical markers that the NCHP placed along the route in the country of the first circumnavigation are located in Guiuan.
These are Calicoan Island where the marker was placed representing Samar Island, Suluan Island which was the first island seen by Magellan crew when they arrived in Guiuan, and in Homonhon where they stayed for several days and had their first contact with the early settlers of Suluan.
It was on March 17, 1521, when Magellan's crew with only three of the five ships arrived in the seawater of Samar after leaving Guam on March 9. They stayed for about two weeks on Homonhon Island in Guiuan where they encountered friendly locals who traded them supplies before sailing on March 28 to Limasawa Island in Southern Leyte. (PNA)