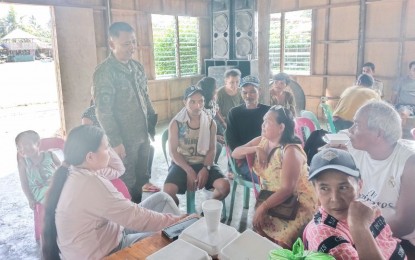 TACLOBAN CITY – The city government of Borongan in Eastern Samar province and the Philippine Army urged families of rebels to help the government convince their relatives to abandon the communist ideology.
Twenty three individuals from Borongan and other towns in Eastern Samar met with local government and Army officials for a dialogue on Wednesday at the Philippine Army headquarters in Lalawigan village in Borongan City.
They met with Borongan City Mayor Jose Ivan Dayan Agda, Army 801st Brigade commander Brig. Gen. Lenart Lelina, and 78th Infantry Battalion commander Lt. Col. Allan Tria.
The dialogue with a theme, "Oryentasyon Para hin nga Lokal nga Iristorya ngan Negosasyon", aimed at asking family members to help the government in convincing their rebel relatives to yield to surrender to the folds of law and abandon the communist group.
Agda, in a statement, said that it is essential to hold a dialogue with the relatives of the rebels so the government would have a clear roadmap on helping rebels to have life in a normal community.
"If you used to think that the government had neglected you, now there is no reason for you not to turn back to the government. There are programs intended for you and your family that have gone astray. Let's be thankful for our armies and to our government for focusing on serving and working hard to end the insurgency," Agda said.
Among the local government's plan is the provision of housing site, wherein former rebels will have a community of their own, engage in livelihood activities such as farming.
Lelina assured the 23 families that the government would never stop and in pleading and asking their help to convince their relatives to surrender.
"
Our government is consistent in asking you to help your relatives return to our government and live peacefully. We prefer to talk to you, we don't want to fight because we are all Filipinos," Lelina added. (PNA)