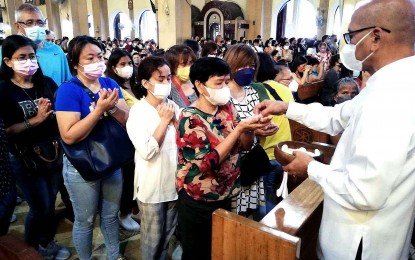 MANILA – The Archdiocese of Manila called on the faithful to return to the churches and join in the holy celebration, especially every Sunday.
Manila Archbishop Jose Cardinal Advincula also urged parishes to focus the catechism on the importance of physical attendance at the celebration of the Eucharist.
"The constant catechesis on the necessity of our faithful to return to our churches for the Sunday Eucharist should be explained in our homilies and in our catechesis," he said in a circular issued on Friday.
The archbishop also encouraged limiting the live-streaming of Masses, especially on Sundays, to encourage the faithful to go to the churches.
Advincula has reminded the servants of the church that the prayer of the "Act of Spiritual Communion" is only for those who participated in the online mass and not for the community inside the church.
The guidelines also include maintaining a safety protocol within the churches to ensure the health safety of the faithful, especially the eucharistic ministers who will share the Holy Communion.
In October last year, the Catholic Bishops' Conference of the Philippines (CBCP) enjoined the faithful to physically attend Mass in parishes at the same time as the government relaxed the rules related to the pandemic.
Churches were closed to the public for almost three years to prevent large-scale gatherings as a measure against the spread of the virus.
At the same time, Advincula has allowed the placing of holy water on the doors of the church that can be used by the faithful.
"The holy water font, which has been emptied during the pandemic, can now be used after the Easter Vigil," he said. (PNA)