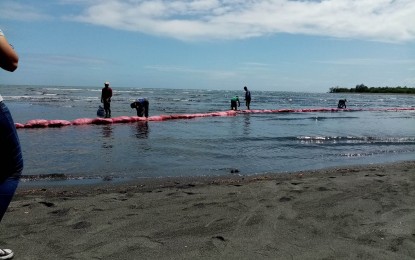 CITY OF CALAPAN, Oriental Mindoro – The city government here is now on alert after residents of Sitios (sub-villages) Villa Antonio and Proper in Barangay Navotas reported traces of an oil slick Thursday afternoon.
In a phone interview on Friday, Dennis Escosora, head of the Calapan Disaster Risk Reduction Management Office (DRRMO), said while their mission is to install spill booms in all areas that are likely to be reached by the oil spill, the priority now are the two sub-villages.
He said personnel from the Philippine Coast Guard (PCG) in Mindoro are also installing spill booms, which Escosora hopes, would boost their protection.
He reiterated the city government's appeal to the residents to refrain from fishing, swimming and eating fish from the affected areas and for people to monitor official updates and advisories.
"We will distribute food packs immediately to support those who will be affected," Escosora said.
The city government, in an official social media post on Thursday night, said: "Be careful and stay alert, especially those living along the coastal areas."
"Do not fish yet in the waters covering Calapan, nor sell seafood coming from Calapan, or swim in the sea. Senior citizens and those with respiratory conditions are advised to observe a distance of 100 meters from the shoreline. Do not take water from sources which are directly coming from 100 meters from the shoreline where oil slicks were found, like those coming from water pumps. Avoid touching soil contaminated by the oil spill," the advisory further said.
Prior to this, the city and its partners were continuously monitoring the sea for the possible spread of oil spill. Residents of Barangay Navotas had early on prepared improvised spill booms fashioned out of empty plastic bottles, ropes and nylon.
The University of the Philippines Marine Science Institute on Sunday reported that while most of the oil would still end up along Naujan town and Pola Bay in Oriental Mindoro, the weakening of the northeast monsoon winds could cause the oil to go southward to northern Palawan and Calapan and to flow northward to Verde Island Passage by March 16.
Meanwhile, the Philippine Coast Guard national headquarters said on its social media page on Friday morning that it has collected 1,000 liters of oily water and seven sacks of oil-contaminated materials from Pola town as of March 15.
It added that from March 1-15, the PCG recorded 6,603 liters of oily water and 57 sacks of oil-contaminated materials collected during its offshore oil spill response operations.
The oil spill first hit Naujan town when the MT Princess Empress capsized on Feb. 28 in the waters of Balingawan Point. The tanker, owned by RDC Reield Marine Services, was reportedly carrying 800,000 liters of industrial-grade oil from a refinery in Limay, Bataan, and was on its way to the Visayas when it capsized and later sank due to engine trouble. (PNA)