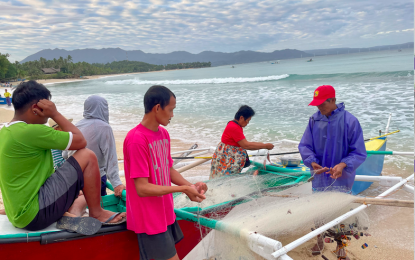 LAOAG CITY – Fishermen in the coastal towns of Ilocos Norte expressed their relief on Friday as preparations to hold the PH-US Balikatan live fire exercise in Burgos, Ilocos Norte have been halted.
Cris Dugay, a fisherman and seaweed gatherer from Bayog village in Burgos town, said authorities made a "good decision" not to hold the Balikatan exercise in the province.
Based on the initial plan of the Armed Forces of the Philippines, the coastal town of Burgos has been identified as "operational area" where new weapons of the United States and the Philippines will be tested for the first time.
As a result, local government units were advised to relocate some fishermen in their respective areas to ensure that they will not be compromised in the live fire exercise at sea.
According to the AFP, the live fire exercise at sea will involve Filipino and American troops who will fire and sink a target vessel.
"We are more at peace now that we are not hosting the Balikatan exercise in the province," said Joegie Jimenez, village chief of Poblacion in Burgos, after they were informed that the major training exercise was moved to a naval station in San Antonio, Zambales.
Jimenez said he was among those who had pushed for the establishment of a fish sanctuary in Burgos town.
He expressed delight that the abundant marine resources in the area will no longer be compromised especially since fishermen have noticed an increased catch of tuna, ilek and other high-value fishes near the marine protected areas.
Data from the Bureau of Fisheries and Aquatic Resources showed Ilocos Norte has a total of 16,717 registered fisherfolk who depend on fishing as their major source of livelihood.
To date, the province maintains at least 11 marine protected areas scattered along the province's nine coastal cities and municipalities. (PNA)