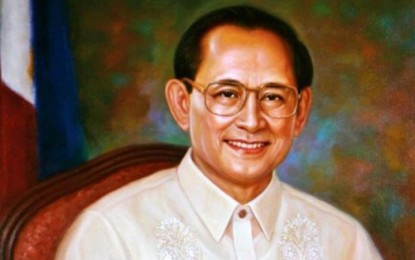 MANILA – The National Museum of the Philippines (NMP) has launched the country's first online Presidential Library in honor of the legacy of the Fidel V. Ramos, the 12th president of the country.
The launching, held Saturday at the NMP building in Manila, coincided with the 95th birthday of Ramos.
He died on July 31, 2022.
The FVR Presidential Library documents the life and leadership of FVR as a soldier and statesman and is the main repository of the voluminous body of works and significant materials generated throughout his public life.
The contents aim to support the work of students and scholars, inspire generations of Filipinos around the world and contribute to the living chronicles of the international community.
The conversion into digital format was done in three phases and covered more than 16,000 video tapes, over 10,000 documents contained in 100 steel filing cabinets, and over 21,000 presidential photos.
The vast collection of books and memorials were catalogued and segregated for donation to select public schools, foundations and project partners.
The FVR Online Presidential Library can be accessed at https://www.fvrlegacy.org while the FVR Legacy channel on YouTube carries the FVR Oral History interviews, including presidential speeches.
Former First Lady Amelita "Ming" Ramos, a gifted pianist, commemorated her husband's natal day with a "mini concert" during the launch of the online library.
Ming Ramos, 95, flawlessly played medley songs that were favorites of the former president to the delight of friends and guests.
Aside from being a teacher, Ming Ramos is also known as a lover of nature and gardening, but her favorite past time is playing piano.
In her short speech, Mrs. Ramos recalled the efforts her husband made towards achieving unity, solidarity and teamwork towards a better, brighter and sustainable future.
"This is what President Ramos worked tirelessly to achieve. He believed that only through collective action will we realize the highest of our hopes and dreams," she said.
"I hope we continue to build on his legacy of peace and stability; the reforms that transformed our country into Asia's Tiger Cub earning the respect of leaders of other nations and its people; a working democracy that engendered people empowerment where power flowed to neighborhoods, communities, sectors and institutions; and sustain a renewed sense of pride in being a Filipino," she added.
She said the former president "loved this country and dedicated his life to serving his motherland (through) unity, solidarity and teamwork."
A graduate of the West Point military academy in the United States in 1950, former President Ramos showed his bravery in combat when as a young 2nd lieutenant of the Philippine Expeditionary Force to Korea (PEFTOK) during the Korean War, led his men in the capture of Eerie Hill, a heavily fortified camp occupied by Chinese forces following a close quarter fighting.
During the Vietnam War, Ramos volunteered as a member of the Philippine Civic Action Group and helped Vietnamese civilians displaced in the war.
As president from 1992 to 1998, Ramos was known for his hands-on service. (PNA)