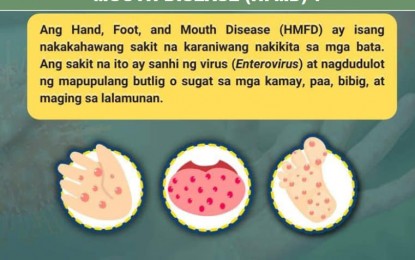 TACLOBAN CITY – The Department of Agriculture (DA) said Monday the hand, foot and mouth disease (HFMD) outbreak in Eastern Samar is human-related and will not affect the animal industry in the region.
In an advisory Monday, the DA regional office said the agents that caused foot and mouth disease between humans and animals are of different and unrelated viruses.
"As such, there is no threat of transmission - humans cannot transmit the virus to animals, likewise, animals cannot transmit the disease to humans through consumption of meat and other products," the advisory said.
The DA regional office added the country had been declared FMD-free without vaccination since 2011, thus, there is no cause for panic among livestock raisers in Eastern Visayas.
The field office issued the advisory days after the Department of Health declared a surge in HFMD cases in Eastern Samar and other parts of the region.
Borongan City, the capital of Eastern Samar province, earlier declared an outbreak. From Jan. 1 to March 18, 2023, the city has already recorded 175 HFMD cases.
Eastern Samar towns that logged HFMD cases are Llorente (29), Lawaan (24), General MacArthur (10), Taft (eight), San Julian (four), Sulat (three), Maydolong (three), Balangkayan (two), Salcedo (one), Guiuan (one), Dolores (one) and Can-avid (one).
As of March 18, the entire region has posted 598 HFMD cases, remarkably higher than the 36 cases reported in the same period last year.
A person infected with HFMD suffers fever; sore throat; feeling of being unwell; painful, red and blister-like lesions on the tongue, gums and insides of the cheeks; red rash, without itching, but sometimes with blistering on the palms, soles or the buttocks; irritability in infants and toddlers and loss of appetite.
To prevent contracting HFMD, the DOH advises the public to perform mandatory washing of hands with soap and water and use alcohol-based sanitizers in all opportunities and occasions, especially in the hospital, household and school settings.
Sharing personal items, such as spoons, forks and cups is also discouraged.
The public is also urged to observe minimum public health standards, such as physical distancing and using appropriate personal protective equipment, especially when symptoms are present, such as properly fitted face masks and gloves.
If symptoms persist beyond 10 days, patients are advised to seek medical consultation immediately, most especially if the symptoms become severe, or are accompanied by the nervous system and cardiorespiratory signs and symptoms. (PNA)