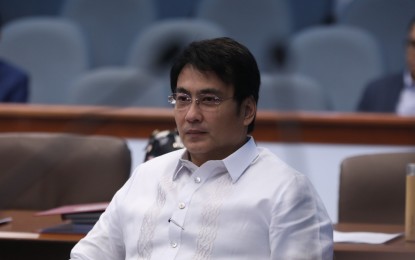 MANILA – Senator Ramon Revilla Jr. on Monday said the proposed nationwide PHP150 across-the-board wage increase will be approved soon as the country is reeling from high inflation rate.
Revilla said Senate Bill No. 2002 or the Across-the-Board Wage Increase Act of 2023, as proposed by Senate President Juan Miguel Zubiri, is gaining ground in both Houses of Congress, with no less than the Senate leadership shepherding its passage.
"It is important that we have a living wage. Matagal na itong inaasam ng ating mga manggagawa (Our wokers have long been waiting for this). I am optimistic," Revilla said in a statement.
"Ako po ay lubos na natutuwa at nagpapasalamat kay SP Zubiri at sa mga kasamahan natin sa Kongreso na ngayon, nagkakalinaw na itong dekada na nating ipinaglalaban (I am very happy and thankful to SP Zubiri and our colleagues in the Congress that now, our advocacy for decades became clearer," he added, emphasizing that workers are the backbone of the economy.
In a recent statement, the Trade Union Congress of the Philippines (TUCP) has also backed the proposed bill of Zubiri.
"The Trade Union Congress of the Philippines welcomes Senate Bill No. 2002, filed by Senate President Juan Miguel 'Migz' Zubiri,' which calls for a PHP150 across-the-board increase of the minimum wages of workers in the private sector across all regions," the TUCP's statement read.
"We welcome these various initiatives to increase wages of workers because these many proposals, especially spearheaded by the Senate President, underscore the badly needed wage adjustment in light of the erosion of the purchasing power of workers' wages due to inflation," it added.
Addressing concerns from the business sector that the wage hike will force business owners to shut down or lay employees off, Zubiri explained that failing to increase wages will drive workers away to seek jobs outside the country.
"We have two choices: itaas natin ang sweldo ng mga manggagawa o panoorin natin silang mangibang-bansa para sa mas magandang kita (we increase the salaries of workers or watch them go abroad for better income)," Zubiri said.
Meanwhile, Senator Jinggoy Estrada said while he agrees that a wage increase is needed given the high fuel and food prices and the workers' daily take-home pay is insufficient to meet their families' daily needs, he also noted the need to strike a balance between the interests of workers and their employers who also suffered from the effects of the pandemic.
"The backbone of the Philippine economy – the micro, small, and medium enterprises (MSMEs) – which comprise more than 95 percent of the enterprises in the country were hardest hit by the pandemic," Estrada said.
"More than the issue of wage increase is the matter of job security which most of our workers have yet to attain. Thus, there's a need to balance the needs of the workers with the capacity of the employers to ensure job preservation and job creation," he said, adding that ways to help both the workers' and the employers' sectors should be also discussed with the tripartite sectors. (PNA)