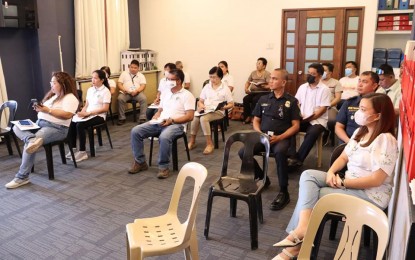 TACLOBAN CITY – The Philippine Statistics Authority regional office here has been geotagging service institutions and infrastructure, government projects, and natural resources as part of the 2022 Community-Based Monitoring System (CBMS) nationwide rollout.
PSA regional manager Wilma Perante on Tuesday said the activity started on March 13 and will run until May 31, enabling the mapping of all areas in the Philippines and allowing the government, citizenry and other stakeholders to check the progress of projects in real-time.
"It will produce a listing of features and structure maps and to generate maps using the collected information. The map is critical for planning, program implementation, and impact monitoring for economic development and poverty alleviation," Perante said in a phone interview.
Geotagging is defined in the implementing rules and regulations of the Republic Act 11315 or the CBMS Act as the process of adding metadata about government projects, household or housing units, service facilities, and natural resources to various media and uploading same to a web-based application.
The PSA field office employs a tablet-based approach, which adapts the use of a PSA-specified tablet installed with QField, an open-source mobile application used for map data collection.
Another approach is paper-based, which makes use of the printed version of the digital map.
In line with this, the PSA and the local governments enjoin the public in the selected areas to support the 2022 CBMS by providing the required information.
Perante assures that they adhere to the principles of transparency, legitimate purpose, and compliance with the Data Privacy Act of 2012 and the Philippine Statistical Act of 2013.
All information gathered will be confidential and not for disclosure unless authorized by law.
In August 2022, the PSA rolled out the CBMS in 90 towns and cities in Eastern Visayas.
CBMS refers to an organized technology-based system of collecting, processing and validating necessary disaggregated data that may be used for planning, program implementation, and impact monitoring at the local level while empowering communities to participate in the process.
The system, mandated under Republic Act 11315, involves the generation of data at the local level, which serves as the basis for targeting households in the planning, budgeting, and implementation of government programs geared toward poverty alleviation and economic development.
The CBMS entails a census of households using accelerated poverty profiling systems in the data. (PNA)