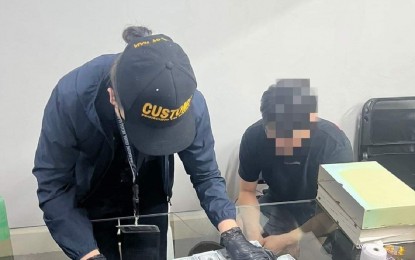 MANILA – Customs officers at the Ninoy Aquino International Airport (NAIA) Terminal 1 recently intercepted an undeclared huge amount of foreign currency from a South Korean passenger.
In a statement Wednesday, the Bureau of Customs (BOC) said the foreigner who arrived from Incheon via an Asiana Airlines flight was caught carrying over USD167,000 (around PHP9.1 million) on March 17.
BOC officers discovered the foreign currencies concealed in a book during a physical examination.
The BOC will issue a Warrant of Seizure and Detention (WSD) for violation of Bangko Sentral ng Pilipinas (BSP) regulations on Cross Border Transfer of Currencies and Section 1113 (L) of the Republic Act 10863 or the Customs Modernization and Tariff Act (CMTA).
The examination was made in the presence of the passenger and witnessed by the Bureau's the Enforcement and Security Service (ESS), and the Customs Intelligence and Investigation Service (CIIS) personnel and the Customs Flight Supervisor.
The foreign national is now under the custody of the Customs Police - NAIA for further investigation and possible filing of a criminal case.
The BOC reminded passengers that only a maximum of USD10,000 or its equivalent in foreign currencies can be brought into or out of the country.
If the amount exceeds USD10,000, the foreign currency must be declared through the Customs Baggage Declaration Form and the Foreign Currency Declaration Form (FCDF) upon arrival at or before departure from a Philippine airport. (PNA)