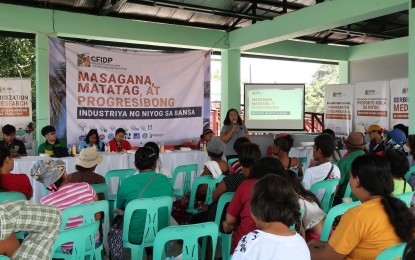 CITY OF SAN FERNANDO, Pampanga – The Philippine Coconut Authority (PCA) is rolling out to the various parts of Central Luzon the Coconut Farmers and Industry Development Plan (CFIDP), a roadmap to help alleviate the plight of indigent coconut farmers.
The PCA, in partnership with Agricultural Training Institute in Central Luzon (ATI 3) and other agencies, has been conducting batches of information caravan around the region since the start of this month to present the salient features of the CFIDP and its components and guidelines to the coconut farmers.
Aeron Bermudez, information officer of the ATI-Regional Training Center-Central Luzon, said on Wednesday that the caravan is aimed at educating farmers on the latest coconut industry developments and provide them with tools and resources to improve their farming practices.
He said batches of information caravans were already conducted in the provinces of Aurora and Zambales.
He said the last information caravan on CFIDP in the region will be conducted in Dinalupihan town, Bataan province on Thursday.
The CFIDP was drafted following the signing of Republic Act 11524, otherwise known as the Coconut Farmers and Industry Trust Fund Act (CFITFA), by former President Rodrigo Duterte on Feb. 26, 2021.
The plan was approved through Executive Order 172, which was signed on June 2, 2022.
Under the law, PHP75 billion will be allocated to the CFITFA for the next five years while the roadmap will receive PHP5 billion every year.
The fund will directly finance programs and projects for coconut farmers.
CFIDP aims to increase the income and productivity of the 2.5 million coconut farmers in the country, promote poverty alleviation, education, and social equity and rehabilitate and modernize the Philippine coconut industry.
To avail of the CFIDP's various initiatives, coconut farmers must be registered in the National Coconut Farmers' Registry System (NCFRS).
Eligible members include those farm owners and/or owner-tillers, coconut growers who own not less than 0.5 hectares of land with at least 20 coconut trees, tenants or tenant-workers, and farm workers or laborers. (PNA)