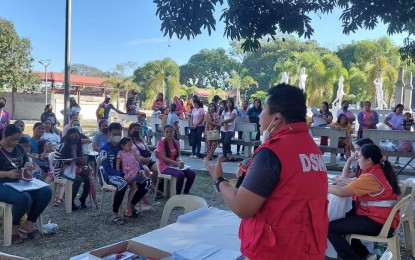 LINGAYEN, Pangasinan – The Department of Social Welfare and Development (DSWD), through its "Listahanan 3" database, has recorded 184,716 poor households out of the 974,861 assessed households in the Ilocos Region as of 2022.
DSWD Ilocos assistant regional director Anniely Ferrer, during the Ilocos Regional Development Council meeting on Wednesday, said the number is equivalent to over one million poor individuals.
She said among the four provinces in the region, Pangasinan has the highest magnitude of poor with 155,529 households; followed by Ilocos Sur with 14,361 households; Ilocos Norte with 10,208; and La Union with 4,618.
Pangasinan has the highest land area and population among the provinces in the Ilocos Region.
Ferrer said among the poor basic sectors are children, youth, women, older persons, farmers, fishermen, persons with disabilities, migrant workers, urban poor, rural poor, formal sector workers, and self-employed and unpaid family members.
She said the Listahan 3 database could be used in identifying potential beneficiaries for social protection programs and services, as a mechanism for validating data on poverty produced by other sources, and as data sources and references for research and studies.
Meanwhile, the DSWD has identified some 56,750 indigent households as potential beneficiaries of the Pantawid Pamilya Pilipino Program (4Ps) for this year in Ilocos Region from the Listahanan 3 database.
In a recent interview, 4Ps information officer Jaesem Ryan Gaces of the DSWD Ilocos regional office said the number was a target given by the 4Ps National Program Management Office (NPMO) to meet the 4.4 million national target.
Of the total number, he said 48,728 are from Pangasinan; 4,031 in Ilocos Sur; 3,230 in Ilocos Norte; and 761 from La Union.
"These are from the Listahanan 3 Database as a new set of potential 4Ps beneficiaries. These poor households with children below 18 years old or with a pregnant member at the time of assessment were identified based on the DSWD's standardized targeting system (STS) as stipulated in the Republic Act No. 11310 or 4Ps Act," he added. (PNA)