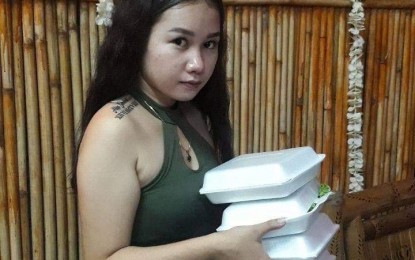 CALASIAO, Pangasinan – What started as funny antics with her friends captured on video during birthday parties eventually became the bread and butter for a 24-year-old lady from this town.
Apol Claveria, popularly known in social media among Pangasinenses as Ponsyana, which means a woman who is always present at gatherings with food, started vlogging in 2019 at a friend's party.
Claveria at that time worked as an online sales representative earning just enough for the needs of her small family with Mark Anthony Reyes, her partner, and their daughter Akea Jaine.
But at the onset of the pandemic, she managed to produce quite a few online videos.
"Wala ak labat abong diman ak la nangaway contents. Ira may ten tips panunto manbalkot tan top ten na kargaan na take-out. Pati aray tsismosa indamay ko la (I stayed in the house during the pandemic, hence I was able to make a lot of content. Among those are the 10 tips on how to take home food from a party and the top 10 containers for take-home foods. I also included in my content the gossipers)," Ponsyana said.
Soon, her funny and relatable videos became viral on social media, particularly on Facebook, and eventually launched her career as a Pangasinense vlogger. She used her newfound fame to tackle gossiping, boasting, and even loud motorcycles yet in a fun and entertaining way.
Ponsyana said she delivers her lines in the Pangasinan language with all its diction to give her videos a homey vibe for Pangasinenses.
And it worked.
From 15,000 followers last year, she now has more than 56,000 followers and she finally earns from her videos.
She recalled initially earning PHP6,000 a month but now racks up a five-digit income, apart from promotions and deals with businesses and mobile application developers.
Ponsyana said aside from the monetary reward of vlogging, being able to make other people laugh and uplift their spirits, especially overseas Filipino workers, is what also makes her happy.
"Makakapaliket no wala ray manmessage misasalamat ira ta nanaekal so problema da no manbabantay ira ed videos ko anggad siyak met makakaliket ak met na maong no umman (It gives me joy when they send me messages thanking me for how they are uplifted whenever they watch my videos. I also feel happy for them)," she said.
She said her journey as a vlogger also allowed her to meet other vloggers, some of whom ended up being her mentors. She said she considers Banong TV, also a well-known vlogger, one of them and who has always encouraged her to improve her craft.
"Mantulong tulungan kami. Wala ray suggestion no antoy makakabuti san aray nayari na gawaen (We help each other. We offer each other suggestions that would improve our content)," she said.
Ponsyana said vlogging also allowed her to fulfill her dream of becoming an actress. "Pangarap ko talaga mag-artista (It was truly my dream to become an actress)," she said.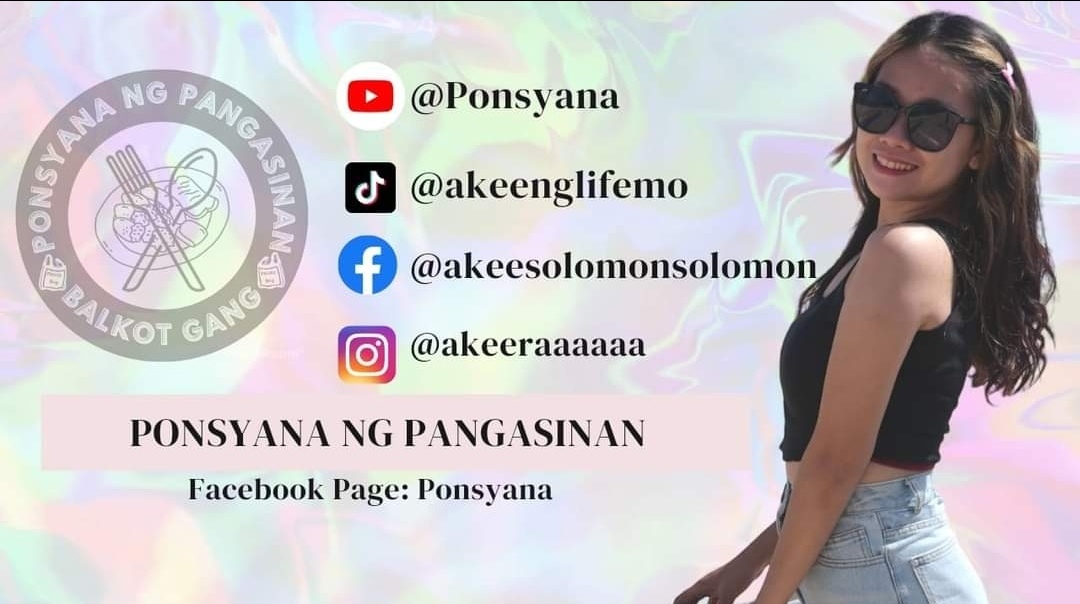 It was not an easy journey, though, as she disclosed having to stop making content in 2021.
"Nanstop ak kasi ed saman kasi singa anggapoy consistent income hindi pa kasi ako monetize nun (I stopped vlogging because I have no steady income as I could not yet monetize my content at that time)," she said.
She looked for another job and got one as an office secretary. Her passion for creating online content and acting, however, was just too strong.
"Last year, September anunutan ko manvlog ak lalamet ta singa makapamiss manvlog. Agko inaasahan na unpatok tuloy tuloy la (In September last year, I did another vlog because I really missed vlogging. I did not expect that it would be a hit and it would continue)," she said.
"Adiscover koy voice over nen kyen la. Panunto na kwela so voice over unaan singa akulaw anggad inanap kon inanap. Mairap talaga three years san aka monetize (I discovered voice-over later on. I also experimented with my voice, at first, I sounded like an old woman until I finally found the voice I would use. It was difficult as it took me three years before I was monetized)."
And though people already recognize her on the street and ask for a photo with her, Ponsayana said she also has her own share of bashers.
"More bashers, more income since sila nagpapataas views and ang nagdidefend na sa akin ay yong mga solid followers ko (More bashers, more income because they increase my views and my solid followers are there to defend me)," she added.
So, what's next for the funny vlogger of Pangasinan?
"Anggad natan panaaralan ko ni. Say goal ko maka-100,000 followers ayan taon (I am learning the craft. My goal this year is to have 100,000 followers)," she added. (PNA)