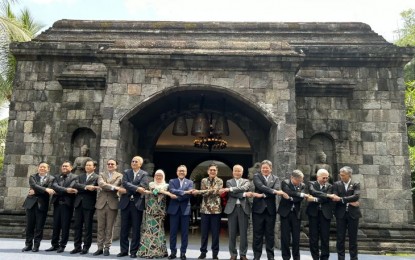 MAGELANG, C Java – The Indonesian Chamber of Commerce and Industry (Kadin) called for the adoption of the Association of Southeast Asian Nations (ASEAN) Quick Response (QR) Code by all ASEAN countries at the ASEAN Business Advisory Council (BAC) meeting on Wednesday.
"The transactions carried out via ASEAN QR Code will use local currencies," the chairperson of Kadin, Arsjad Rasjid, said after chairing the ASEAN-BAC meeting here.
Thus, if a transaction is conducted in Indonesia, it will use the rupiah. Likewise, if it is conducted in Thailand, it will use the Thai baht and so on, he said.
"It (QR code adoption) will also reduce the cost of transactions, thus it can be the key for MSMEs (micro, small and medium enterprises) and (bigger) business players in ASEAN to collaborate," he added.
The ASEAN QR Code is one of the comprehensive legacy programs promoted by Kadin as a solution to strengthen digital transformation in ASEAN, which is one of the five ASEAN-BAC priority issues.
Rasjid said Indonesia is ready to assist other ASEAN member countries in implementing the QR Code.
Indonesia, Singapore, Malaysia, Thailand and Vietnam have used the cross-border QR Code since 2022.
"(Recently) Cambodia and the Philippines are also starting (to use the QR Code)," Rasjid said.
Later, his party will also invite and help Laos, Myanmar, as well as Timor Leste to apply the QR Code.
"It (encouraging all ASEAN member countries to use the code) is what I regard as inclusiveness," he said.
On a separate occasion, Deputy Minister of Trade, Jerry Sambuaga, said one of the seven priority agendas raised at the 2023 ASEAN Economic Ministers' (AEM) Retreat here on March 20–22, 2023 was the establishment of a Leader's Statement on Developing the ASEAN Digital Economy Framework (DEFA).
"I think, although it (the use of the QR Code) is very simple, it is very strategic. Why? Because it can further strengthen the value of our money," he added.
The discussion on the drafting of the leader's statement would also cover the improvement of access to digital payments to make them more efficient. (Antara)