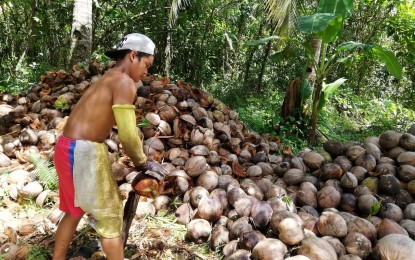 MANILA – State-owned Development Bank of the Philippines (DBP) has launched a special credit facility focusing on coconut farmers in support of the national government's efforts to strengthen the development of the coconut industry, one of the major segments of the local agriculture sector, a top official said.
DBP President and Chief Executive Officer Michael O. de Jesus said the Coconut Farmers and Industry Development Credit (CFID) Program aims to provide financing to support projects related to the coconut value chain focusing on capacity expansion, farm integration, and enterprise diversification to increase farm production and income of coconut farmers.
"We believe that a robust agribusiness sector is one of the keys to achieving a food-secure Philippines," de Jesus said in a news release on Thursday. "Through this new loan program, DBP aims to pave the way for coconut
The CFID complements the Department of Agriculture's efforts to boost food production by addressing various challenges in the coconut industry ranging from low production to natural calamities and pest infestations.
De Jesus said under the program, eligible coconut farmer enterprises and coconut farmers' cooperatives and organizations may borrow funds to finance coconut value chain projects such as the acquisition of machinery and equipment, establishment of facilities for production and post-production, and establishment of intercropping and livestock/poultry integration in coconut farms.
He said the program adopts a blended financing scheme, where 75 percent of the loan will be financed by the Coconut Farmers and Industry Trust Fund (CFITF), and the remaining 25 percent will be financed using DBP funds. It offers a maximum loanable amount of up to 90 percent of the total project cost for project financing and relending.
"DBP is ready to provide financing to viable­­ projects and will continue to work towards redefining the traditional approach to agriculture lending by putting greater emphasis on the value chain and business side of the spectrum," de Jesus said. (PNA)