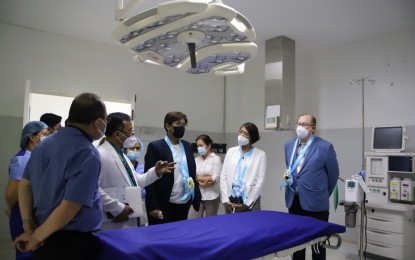 MANILA – The Department of Health (DOH) on Thursday opened a new catheterization laboratory (CathLab) at the Jose B. Lingad Memorial General Hospital (JBLMGH) which aims to serve the residents of Central Luzon provinces.
In her speech during the ribbon-cutting ceremony, DOH officer in charge Maria Rosario Vergeire said the construction of the newly developed facility was made possible through the Health Facilities Enhancement Program and in coordination with provincial and local government units.
The CathLab, which was completed in 120 days, provides services of interventional cardiac procedures and non-cardiac procedures under interventional radiology, both vascular and non-vascular.
"We hope that there comes a day that we will no longer send patients outside of the region, because we have a facility such as JBLMGH that can cater to all diseases that our patients may be confronted with," she said.
The fund for the CathLab construction was taken out of the PHP1 billion budget given to the hospital in 2013 for the completion of its equipment and buildings, Vergeire said.
"In one to two years, we will have a Philippine General Hospital in Luzon and that would be JBLMGH," she said. (PNA)