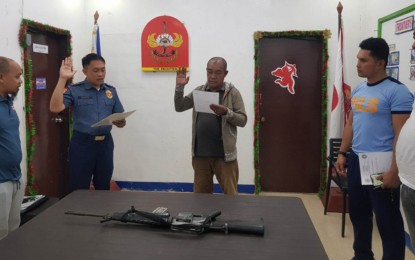 ZAMBOANGA CITY – Authorities dismantled another private armed group (PAG) in Tawi-Tawi, the fourth this month after its leader surrendered on Thursday.
The Area Police Command-Western Mindanao (APC-WM) on Friday identified the surrenderer as Romil Tammang Jaafar, leader of the Jaafar armed group based in Barangay Lakit-Lakit, Bongao, Tawi-Tawi. He also turned over an M16 rifle.
The police did not mention how many members the Jaafar group has, except that one of them, Sabtuli Arasani, had recently died from a lingering illness.
The group has previously served as security escort of incumbent Mayor Jimuel Que of Bongao, the capital of Tawi-Tawi.
Jaafar was placed under the custody of Nur-Rashid Pajiji, the village chief of Barangay Poblacion, Bongao, for continuous monitoring of the police.
Disbanded earlier in the same island province were the Asaad, Alsaggab Mohammad Ali, and Ahaja groups.
The Asaad group was dismantled after its leader and members surrendered on March 23.
The seven-man group served as the security escort of former Panglima Sugala Mayor Rejie Sahali-Generale and operated in nearby municipalities.
Meanwhile, the groups of Ali and Ahaja were also disbanded on March 20 and March 21, respectively.
The Ali group based in Barangay Baldatal, Sapa-Sapa town, has seven followers, including a retired soldier, and served as armed guards during Ali's incumbency as the town mayor in 2007.
On the other hand, the seven-member Ahaja group acted as security escorts of incumbent Sitangkai Mayor Tiblan Ahaja and Vice Mayor Serbin Ahaja. (PNA)