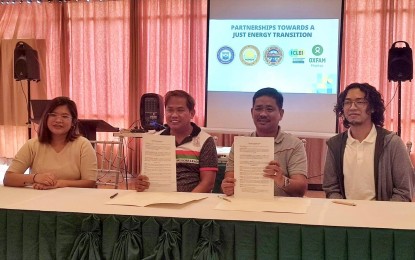 TACLOBAN – The city of Borongan and the town of Dolores in Eastern Samar province have been identified as pilot areas for the implementation of the RE-Start Campaign that champions renewable energy and creates a more sustainable future for their communities.
Officials from these two local government units signed a memorandum of understanding with representatives from Oxfam Pilipinas and ICLEI-Local Governments for Sustainability Southeast Asia Secretariat on March 28, the city government of Borongan announced on Friday.
The RE-Start Campaign is part of Oxfam Pilipinas' just energy transition program to promote a democratized energy governance system in the Philippines and support local actors to establish enabling policy and program environment for accelerated RE transformation.
Borongan City Mayor Jose Ivan Dayan Agda said the two areas for the use of renewable energy and implement energy transition could lead to cheaper electricity.
"When people question what RE (renewable energy) is and why it's important, we will inform them that it can provide cheaper electricity that our communities can benefit from," Agda said in a statement.
"The success of our country lies in the local government units, no matter how vulnerable we are in terms of governance, the local government unit can still lead the growth in our communities," he added.
Oxfam Pilipinas executive director Erika Geronimo said "this partnership means increasing people's access to sustainable energy and opportunities to scale up RE technologies."
Dolores town councilor Randy Pomida, representing Mayor Rodrigo Rivera, said the project will be helpful to off-grid communities in their town.
The Department of Energy (DOE) assured the provision to local governments the energy policy advisory and technical assistance services in formulating and implementing renewable energy projects in their locality. (PNA)