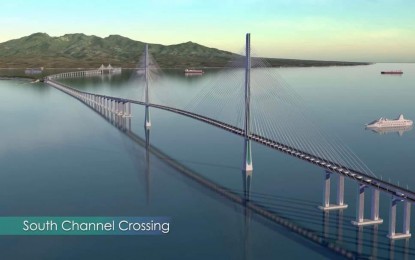 MANILA – The Department of Public Works and Highways (DPWH) is looking to start the construction of the Bataan-Cavite Interlink Bridge (BCIB) within the first quarter of 2024.
The 32.15-kilometer, four-lane BCIB will connect Barangay Alas-asin in Mariveles, Bataan to Barangay Timalan Concepcion in Naic, Cavite, reducing travel time from five hours to an estimated 45 minutes.
"Hopefully, we can start packages 1 and 2 this year and we could procure the other packages of this project until next year," said Teresita Bauzon, DPWH project manager, during the Saturday News Forum in Quezon City.
The entire construction may last until mid-2028, she added.
The project will be financed by loans from the Asian Development Bank (ADB) and Asian Infrastructure Investment Bank.
"Right now, all the negotiations of the National Economic Development Authority and the ADB for funding of the construction are ongoing," Bauzon said.
On Friday, President Ferdinand R. Marcos Jr. led the milestone ceremony for the detailed engineering design of the project at the Maritime Academy of Asia and the Pacific in Mariveles, Bataan.
Marcos asked DPWH officials, employees, and consultants to remain committed to finishing the BCIB on schedule.
"Do your best always to ensure that civil works for this bridge will commence by October this year," he said. "Do your best also to deliver what we have proposed so that our people and their localities may live out the picture we have painted as our goal as soon as possible."
The feasibility study for the project started in March 2018, funded by the ADB Infrastructure Preparation and Innovation Facility loan. (PNA)