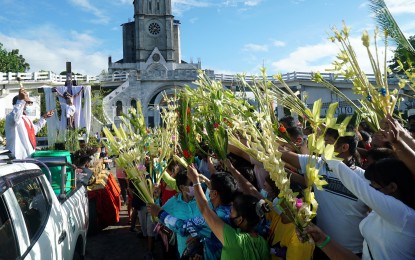 MANILA – Catholic priests on Saturday invited the faithful to attend the Palm Sunday Mass on April 2, the start of the Holy Week.
According to Fr. Earl Valdez, Quiapo Church spokesperson, they will have regular Mass schedules on Sunday.
"We only have a regular Mass schedule, but we have something called the Grand Entrance at the first Mass in remembrance of the Lord's entry into Jerusalem. The grand entrance is like a reenactment," he said in a message to reporters.
Hourly Masses at the Quiapo Church on Sunday are from 4 a.m. to noon and 3 p.m. to 7 p.m.
"This is the beginning of the Holy Day that remembers the entry or return of Jesus to Jerusalem where he will face his suffering and death on the Cross, towards the Resurrection," Valdez said
Fr. Jerome Secillano, executive secretary of the Catholic Bishops' Conference of the Philippines-Public Affairs Committee (CBCP-PAC), also reminded of health protocols.
"We have Masses and blessing of palms. They can wear a mask while attending or they can remove it. That's their choice. Communion in some diocese can now be done through the mouth. Other dioceses still do it via hand," he said.
Secillano said the faithful must welcome Jesus into their lives.
"As Lord and Savior, He protects us. Do not doubt Him even when things get difficult. Hold on to Him no matter what because at the end of the day, He is the only one capable of giving us the life of glory, life with God in eternity," he said. (PNA)