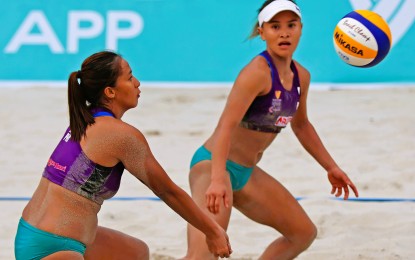 MANILA – The Philippine National Volleyball Federation (PNVF) announced on Sunday the composition of the beach and indoor squads to the Cambodia 32nd Southeast Asian Games.
Cherry Ann "Sisi" Rondina and Jovelyn Gonzaga will lead the women's beach volleyball team also composed of Bernadeth Pons and Floremel Rodriguez. The men's team members are Alnakran Abdilla, Jaron Requinton, Jude Garcia and James Buytrago.
Except for Buytrago, all are returning to the region's biggest sporting event with the hope of improving their bronze medal finishes in 2022 edition held in Vietnam.
Rondina and Gonzaga were crowned champions after beating Pons and Rodriguez at the Volleyball World Beach Pro Tour Futures in Subic last December.
Brazilian Joao Luciano Simao Barbosa heads the beach volleyball team coaching staff composed of Romnick Rico (assistant coach -- women's), Rhovyl Verayo (assistant coach -- men's) and John Paulo Agir (strength and conditioning coach) and Rosemarie Prochina (team manager).
Alyssa Valdez and Vince Raphael Mangulabnan will banner the women's and men's indoor teams.
"These teams are composed of perhaps the most formidable rosters to date with each and everyone of these athletes dedicated and determined to rise to the challenge in Cambodia," PNVF president Ramon "Tats" Suzara said.
"With the skills given and dedication to flag and country considered, our coaches put premium on chemistry, on how these players would blend based on the competitions and challenges of the SEA Games," he added.
Joining Valdez on the women's team mentored by Brazilian Jorge Edson Souza De Brito are her Creamline teammates Julia Melissa Morado-De Guzman, Kyla Llana Atienza, Celine Elaiza Domingo, Jessica Margarett Galanza, Diana Mae Carlos and Michele Theresa Gumabao; Cignal's Maria Angelica Cayuna and Glaudine Troncoso; PLDT's Kathleen Faith Arado and Dell Palomata; Choco Mucho's Cherry Rose Nunag and Katrina Mae Tolentino; and Chery Tiggo's Mylene Paat.
With Mangulabnan are his AMC-Cotabato teammates Joshua Umandal, Lloyd Josafat, Kim Harold Dayandante, Vince Patrick Lorenzo and Jayvee Sumagaysay; National University-Archipelago Builders's Rwenzmel Taguibolos and Leo Ordiales; Cignal's, Manuel Sumanguid III; Iloilo's Jade Alex Disquitado; and University of Santo Tomas's Jay Rack Dela Noche.
Filipino-Americans Steven Charles Rotter, Cyrus Justin De Guzman and Michael Raymund Vicente are also in the men's team coached by Brazilian Sergio Valadares Veloso.
The men's team coaching staff includes Arthur Odjie Mamon and Rommel Abella (assistant coaches), Mark Gil Alfafara (trainer), Melchizedek Samonte (strength and conditioning coach) and Jerome Guhit (team manager).
Sherwin Meneses and Cherry Rose Macatangay (assistant coaches), Raffy Mosuela (trainer), Grace Gomez (strength and conditioning coach) and Ma. Fe Moran (team manager) are in the women's team coaching staff.
Indoor volleyball competitions will start on May 3 at the Morodok Techo Elephant Hall in Phnom Penh while beach volleyball, to be held at Otres Beach in Preah Sihanouk (Sihanoukville) Province, will kick off on May 11. (PNA)