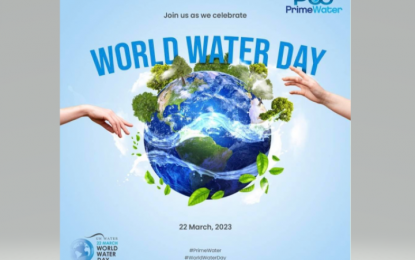 MANILA – PrimeWater Infrastructure Corp. joined the annual celebration of World Water Day by conducting nationwide simultaneous TalaKAYAnan and other activities, which aim to draw attention to the sustainable management of water resources.
TalaKAYAnan: Talakayan sa Pamayanan, one of PrimeWater's advocacy programs, educate local communities about water-related information and concessionaires on the importance of saving water for a healthy community and sustainable environment.
With this year's theme "Accelerating Change," PrimeWater local branches across the country pushed for a greater understanding of the significance of water as a fundamental human need and how it should be managed.
A total of 1,683 participants were involved in the synchronous activities carried out by the 75 PrimeWater branches across the country, engaging themselves in TalaKAYAnan, fun runs, and coastal clean-up drives.
"PrimeWater has been working with various sectors to protect water resources and the health of Filipinos. The 2023 World Water Day urges us to strengthen our efforts to protect groundwater from pollution and accelerate change in sustainability through our projects and programs," Cezar Ong, PrimeWater assistant vice president for Operations, said in a news release on Saturday.
On the long-term solution for water conservation, PrimeWater and its partner water districts have been providing efficient and affordable septage desludging, treatment and disposal services for thousands of households and commercial establishments within their service areas.
"PrimeWater stepped up and collaborated with local government units to provide their Septage Management Program through its partnered Water Districts in compliance with the Clean Water Act," PrimeWater head for Wastewater and Sanitation Department Vergel Angelo Paule said.
PrimeWater operates two septage treatment plants in Tarlac City and San Jose Del Monte, Bulacan, while three more wastewater facilities are under construction in Tagaytay City, Batangas City, and the City of San Fernando in Pampanga. (PNA)