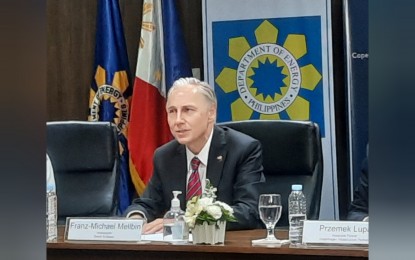 MANILA – Danish Ambassador to the Philippines Franz-Michael Mellbin said the liberalization of the renewable energy (RE) sector in the Philippines has attracted the interests of Denmark's largest wind energy companies.
On the sidelines of a recent event at the Department of Energy (DOE), Mellbin told reporters that the Royal Danish Embassy here is "looking at a handful of companies" that are interested to explore business in the Philippines.
"[W]e have the two of the largest wind companies in the world, Vestas and Siemens Gamensa. There are also big interests from these companies to move into the market," he said.
The envoy said the Philippines became an attractive market for Danish RE firms following the amendments to the Renewable Energy Act that now allows 100-percent ownership of projects for foreign investors.
Last week, Mellbin witnessed the signing of service contracts for Copenhagen Infrastructure Partners (CIP) with the DOE for three offshore wind energy projects to be located in Camarines Norte and Camarines Sur, in Northern Samar and in Pangasinan and La Union.
CIP is the first foreign firm that announced it will undertake renewable projects in the Philippines at full ownership.
The Danish firm said it will invest USD5 billion for the three offshore wind energy projects to be delivered within the term of President Ferdinand R. Marcos Jr.
Mellbin said CIP's investment in the Philippines is one of the offshoots of the recent official visit of Marcos to Europe.
"Definitely President Marcos has sent some very strong, positive signals about more openness to business, and this has stimulated both in Demanrk (and) also in Europe," the envoy added.
He added that the Danish firms see the policy reform of the Marcos administration to open the renewables sector for foreign investors as a key measure to attract more energy investments into the Philippines.
"It's very important because Denmark is a world leader when it comes to wind technology, so some of the investors feel more comfortable working in control of the projects… [T]he investments of these companies also bring a lot of know-how and knowledge to the Philippines," Mellbin said.
He said Danish RE firms are interested in onshore and offshore wind energy projects, small modular reactors, waste-to-energy, and biomass projects in the Philippines.
The Danish envoy noted that the Philippine government can do more ribbon-cutting ceremonies when it cuts the red tape.
"[R]ed tape is a challenge for foreign investors in this country, and the government can do a lot to get more foreign investments in by cutting the red tape," Mellbin said. (PNA)