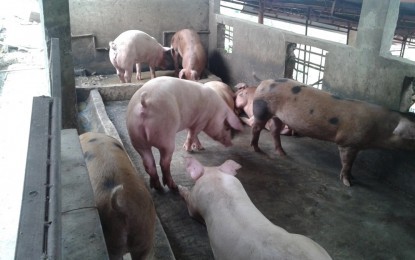 CEBU CITY – The Bureau of Animal Industry (BAI) can no longer conduct testing for the African swine fever (ASF) virus in Cebu province, Governor Gwendolyn Garcia said.
In a memorandum issued to the mayors and the police, Garcia prohibited BAI from collecting samples of blood, serum, tissue, or any other organ of pigs, and designated only the municipal or city agriculturists and veterinarians or their authorized personnel to do the testing.
"The mayor and the PNP are called upon to monitor the strict implementation of this memorandum," she said in the memo released Tuesday.
Her memo came after the BAI released on March 20 another result of their tests, finding five more localities with ASF, raising the number to 12 areas (Bogo City, Carcar City, Cebu City, Cordova, Lapu-Lapu City, Liloan, Mandaue City, Minglanilla, San Fernando, Sibonga, Talisay City, and Tuburan).
In a press conference on Monday afternoon, Garcia and capitol lawyers threatened to file more charges against BAI officials for releasing their latest test results without consulting the provincial government, citing provisions of Republic Act 7160 or the Local Government Code.
This time, she said they may ask for preventive suspension against the officials.
"One thing that I can tell you. There are no massive deaths of pigs. There are, however, attempts (to present) Cebu and its PHP11-billion industry in a bad light, sabotaging our hog industry sales for some strange and sinister reasons," the governor said.
Lawyer Benjamin Cabrido Jr., capitol's legal consultant, said the provincial government may file a special civil action against BAI officials to prohibit them from further conducting tests in the province, citing the "due process clause" of the 1987 Constitution.
Meanwhile, Garcia defended Dr. Rose Vincoy from criticisms from her fellow veterinary medicine practitioners, urging her to "uphold the morals and law" in practicing her profession.
The criticisms stemmed from Vincoy's adherence to the local policy as issued by the governor, prohibiting the culling of pigs within the 500-meter radius and discarding color-coded quarantine mapping to prevent the further spread of the ASF virus.
Garcia said Vincoy was just doing her job when she stood up for her constituents whose livelihoods she said are at stake if culling will go on.
"Do not meddle with our position which our own provincial veterinarian has adopted, belonging to the Cebu provincial government. Let us be very clear about that, whether you be a national or international association, you cannot infringe upon a local government unit's territorial powers, as very expressly contained in the Local Government Code," Garcia added. (PNA)