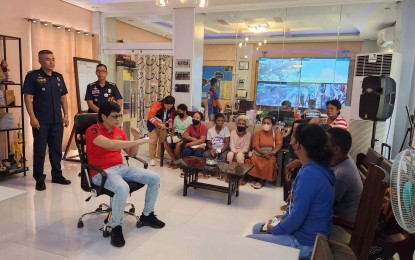 ILOILO CITY – Interior and Local Government Secretary Benjamin Abalos Jr. on Saturday morning joined 35 foreign and local scuba divers to search for the missing tribe chieftain after his motorized fishing boat was hit by a speedboat between the waters of mainland Malay and Boracay Island on the evening of April 5.
The 6:30 a.m. underwater search turned out negative and Abalos said one or two more dives would probably be conducted to locate the victim.
An earlier press statement by the Malay Police Station identified the missing victim as Ernesto S. Coching, 64, chief of the Malay Ati Tribal Association and resident of Barangay Cubay Sur, Malay, also the skipper of the motorized fishing boat "Rens Lee."
Coching and his son-in-law, Ricky E. Valencia, 37, were thrown into the waters after their fishing boat was damaged and later sank when it was reportedly hit by a speedboat marked "Diwata 4," owned by Shangri-La Boracay.
Valencia was rescued by the speedboat.
"I just spoke with the family and they are hoping that he is still there. Whatever it is, what is important is that we've really tried our best to search (for Coching)," Abalos said in an interview with reporters.
He said there is a possibility that the victim was swept away because it has been three days since the incident happened and he observed during the dive that the underwater current was strong.
Abalos also thanked all the dive shops and volunteers in Boracay who responded even if they were just informed of the operation Friday night.
As a result of the incident, Abalos emphasized the need to be strict with maritime regulations; for all motorized bancas to be registered and to have lights, especially in the evening; and for life vests to be always available.
On Friday, he met with the family of the victim and provided an undisclosed amount of financial assistance out of his pocket.
Meanwhile, the skipper of the speedboat, Mansueto D. Tana, 43, of Barangay Lanas, San Jose, Romblon is at the custodial facility of the Malay Police Station.
The speedboat is in the custody of the Philippine Coast Guard - Aklan while the damaged motorized boat is with the Aklan Maritime Police Station. (PNA)