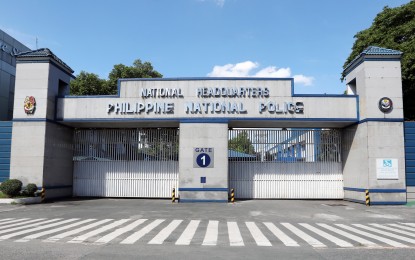 MANILA – The Philippine National Police (PNP) on Tuesday supported the call of Interior Secretary Benjamin Abalos Jr. for police officers involved in the arrest of a police sergeant who yielded 990 kilograms of shabu worth PHP6.7 billion to take a leave of absence pending investigation of the case.
"Likewise, the PNP backs SILG's (Secretary of the Interior and Local Government) call for the voluntary submission of leave of absence by PNP officers depicted to be directly involved in the arrest of PMSgt (Rodolfo) Mayo as seen in the CCTV footages. We believe that such is the most prudent thing to do by said officers to prevent them to influence the investigation at any stage," PNP Public Information Office chief Col. Redrico Maranan said in a statement.
During a press briefing on Monday night held at the DILG office in Quezon City, Abalos presented a CCTV (closed circuit television) footage on what transpired during the Oct. 8, 2022 drug bust where authorities seized 990 kilos of shabu and arrested Mayo and nine others.
Abalos said the CCTV footage showed that some PNP officers were seen on the site on the day of the operation. The video was submitted to the fact-finding board headed by the National Police Commission vice chairperson Alberto Bernardo.
The police officers seen in the footage were Police Lt. Gen. Benjamin Santos Jr., then Deputy Chief PNP for Operations; Brig. Gen. Narciso Domingo, director of the PNP Drug Enforcement Group (PDEG); Col. Julian Olonan, chief of PNP Drug Enforcement Group (PDEG) Special Operations Unit (SOU) Region 4A; Capt. Jonathan Sosongco, head of the PDEG SOU 4A arresting team; Lt. Col. Arnulfo Ibañez, OIC of PDEG SOU National Capital Region (NCR); Maj. Michael Angelo Salmingo, deputy of PDEG SOU NCR; Lt. Col. Glenn Gonzales of Quezon City Police District; Lt. Ashrap Amerol, intelligence officer of PDEG Intelligence and Foreign Liaison Division; Lt. Col. Harry Lorenzo, Manila Police District Moriones Station commander; and Capt. Randolph Piñon, chief of PDEG SOU 4A Intelligence Section.
Maranan said the PNP will not tolerate any wrongdoing of any member of the organization, regardless of rank and position.
"We will respect the proceedings and abide by the directives of the Napolcom and other constituted authorities in this matter," he added.
Abalos earlier said the concerned officers have a week to file their leave of absence, otherwise they would be suspended.
It can be recalled that PNP chief Gen. Rodolfo Azurin Jr, ordered the creation of SITG 990, upon the recommendation of Domingo who discovered that some of his men pilfered more than 42 kilos from the bulk of shabu in the lending office owned by Mayo where the 990 kilos were confiscated.
During the course of the investigation by the SITG, all possible pieces of evidence that could aid in the conduct of the further investigation, including CCTV footage have been gathered, to determine and identify all possible personalities involved in the said incident.
The SITG has diligently and efficiently went over all the gathered sets of evidence in order to reach a logical conclusion. The SITG has conducted 21 case conferences for the past few months.
The final report with recommendations has already been submitted to the Office of the Chief PNP.
"Be that as it may, the PNP is firm in its commitment and oath to be an organization clothed with integrity and worthy of the people's trust and confidence," Maranan said.
No cover-up
Meanwhile, Domingo on Tuesday denied any attempt to cover up the seizure of PHP6.7 billion worth of shabu during an anti-drug operation in Manila City in October 2022.
"We assure you that that there was no attempted cover-up here, kung 'yun po ang iniisip ng karamihan na ang PDEG kami ay nag-cover up sa maling pinaggagawa ng mga tao namin (We assure you that there was no attempted cover-up here, if most people think that PDEG is covering up the wrongdoings of its personnel)," Domingo told reporters in a press briefing held at the PDEG Annex at Camp Crame.
Domingo said he will comply with the order of Abalos for him to file his leave of absence to pave the way on the investigation on the matter.
"But may I express my dismay that this is really unfair. We just did our mandate and just did our fight against the illegal drugs trade. Kami na nga po itong nakagawa ng pinakamalaking huli ng shabu sa kasaysayan ng PNP, 990 kilos shabu na nagkakahalaga ng PHP6.7 billion, kinasuhan ang dalawang suspects pati ang kapwa naming pulis na si Master Sergeant Mayo kami pa ngayon ang pinagdududahang kasabwat sa aming nahuling suspects (It is us who have caught this biggest shabu haul in the history of the PNP. We have charged two suspects and our fellow police officer, Master Sgt. Mayo, and now we are accused of being in cahoots with the suspects we caught)," he explained.
"Our conscience is clear, we assure you there is no attempt to cover up here," he added.
Based on the PDEG report, Mayo, then a member of the PNP Drug Enforcement Group's Special Operations Unit in the National Capital Region, was arrested during a drug buy-bust operation in Quiapo, Manila on Oct. 9, 2022. Seized from him were PHP13.6 million worth of shabu.
The PDEG said the operation stemmed from the arrest of a drug suspect identified as Ney Saligumba Atadero during a buy-bust operation in Tondo Manila on Oct. 8.
During the investigation, police said Atadero revealed that more illegal drugs can be found inside the Wealth and Personal Development (WPD) lending office in Sta. Cruz, Manila which was owned by Mayo.
The CCTV footage showed Mayo being already under the custody of PDEG, handcuffed, on Oct. 8.
Domingo said it was part of their "tactical move" in the bid to get bigger fishes, noting that he does not believe that Mayo can handle such a big stash of illegal drugs on his own.
"From the very start, I didn't believe that Mayo can handle a 990 kilos shabu operation. That is why right after I was informed by Colonel Olonan, I immediately messaged the then deputy chief for operation (TDCO) Lt. Gen. Benjamin Santos Jr. as soon as director for intelligence Maj. Gen. Acorda approved that we will use Mayo to locate the main source of his drugs, the chief PNP (Gen. Azurin) and TDCO approved my proposal," he said.
Domingo also said Mayo and Ibañez assured him that they can pinpoint another warehouse with much much bigger stocks of illegal drugs.
"Ang totoo kasing nangyari dito nagkalaglagan may naglaglag kay Mayo kaya nahuli natin ngayon bilang ganti gusto na rin ilaglag ni Mayo 'yung naglaglag sa kanya. Unfortunately, nung nakaalis na si Ibañez at Mayo may nag-message kay Chief PNP na maaaring patayin si Mayo ng kanyang mga kasama (The truth here is there is someone who doubled-crossed Mayo which led to his arrest. For Mayo, he wants to get even at the one who betrayed him. Unfortunately, when Ibañez and Mayo left, somebody sent a message to the Chief PNP that Mayo might get killed). The chief PNP told me to stop and secure Mayo because he might be killed," he added.
Following the filing of charges against Mayo and Atadero, Domingo said they conducted a counter-intelligence operation and backtracked the personalities who frequented the WPD Lending Inc. in Tondo, Manila where the 990 kilograms of shabu was stored.
Domingo said they reviewed the CCTV footage, even before it was presented by Abalos to the public where they saw some of their men stealing some of the drug haul. He said he immediately reported the matter to Azurin and Santos which prompted them to form the Special Investigation Task Group (SITG) 990 headed by Maj. Gen. Eliseo Cruz. It was identified that 42 kilos of shabu were missing.
Domingo said he was ordered to cease and desist from any involvement in the probe as those under investigation were his men.
"Had I not been stopped to investigate, we might have identified or charged others who were involved in the 990 kgs. of shabu. If we are indeed in cahoots with the suspects, we should not have reported those whom we caught in the CCTV footage. We should have kept silent," he added.
As reported, the 42 kilograms of shabu were surrendered and recovered on Oct. 15, 2022 in an abandoned car parked along Boni Serrano Avenue in San Juan City near Camp Crame.
Senior M/Sgt. Jerrywin Rebosora and M/Sgt. Lorenzo Catarat were cited for contempt after lying over their involvement in the missing 42 kilos shabu during a Senate inquiry last March.
The two were caught on a CCTV camera carrying the illegal drugs but they maintained they were eating at a nearby eatery when the incident happened.
Another police officer, Col. Roland Portera said the two surrendered the 42 kilos of drugs.
Domingo admitted that as seen in the CCTV footage presented by Abalos, they committed several lapses but they can justify it, maintaining that they did that to get Mayo's cohorts.
He said they will be sharing all necessary information to the National Police Commission (Napolcom) which was ordered by Abalos to conduct a separate investigation regarding the said operation.
On March 26, the PNP and the Philippine Drug Enforcement Agency destroyed the said 990 kilos of shabu in Trece Martires City, Cavite. (PNA)