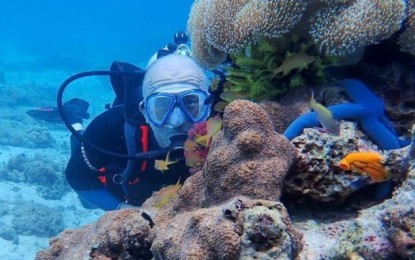 TACLOBAN CITY – At least 34 European divers are in Southern Leyte province for a week-long dive event organized by the French-based underwater event group, Objectif Atlantide.
For the third edition of the underwater game, Objectif Atlantide chose Sogod Bay in Southern Leyte, which is tagged as one of the exceptional diving destinations in the country.
"The event brings together 34 participants for a unique and exciting adventure: a week of playful investigation, naturalist discovery and friendly competition," Objectif Atlantide said in a statement on its website.
The event from April 10-17, 2023 is being joined by divers from France and Switzerland, inclined on observing marine life through treasure hunts, educational and fun events.
The majority of the group members are first-timers in the region and some are even in the Philippines, according to the Department of Tourism (DOT). Among the participants are French actors Estelle Lefébure and Anthony Lambert.
Over the weekend, guests were accompanied by DOT officials during their trip from Manila to Tacloban Airport and to Padre Burgos town in Southern Leyte.
"We are truly honored to be the host region for this year's event. We are confident in the beauty of our Sogod Bay Dive site's colorful underwater world," said DOT Eastern Visayas regional director Karina Rosa Tiopes in a phone interview on Tuesday.
The Sogod Bay Dive Sites has been dubbed as the Rising Star of the Philippine Dive Destinations. It is often described as an undiscovered divers' paradise, that has something to suit every diver's level of experience, preference, and expectations, according to Tiopes.
She said the 30 dive sites around Sogod Bay offer divers shore dives to world-class muck diving, pristine coral walls dives for macro photography diving and night dives. (PNA)