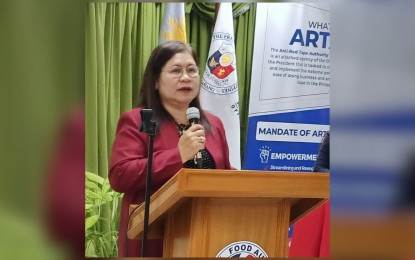 ILOILO CITY – The National Food Authority in Western Visayas (NFA-6) is optimistic to achieve its 2023 palay procurement target of 1.9 million bags, with the bulk to be covered during the second cropping.
"We are campaigning now because we are anticipating a drought. The forecast is third quarter and will peak on the fourth quarter. We are trying to build up on our buffer because we don't know when the disaster strikes," said NFA regional manager Dianne A. Silva as she appealed for support during the opening of the regional office of the Anti-Red Tape Authority at the third floor of their building in Jaro district Monday afternoon.
"With the Rice Tarrification Law, our only mandate now is to buy palay, establish a buffer stock of which the palay should come from our local farmers so that we can serve the same in times of calamities and disasters," she added.
Silva said so far they have only procured 140,501 bags of palay, thus increasing their available inventory to 290,097 bags. When milled the palay can translate to 182,761 bags of rice.
The regional manager said that they are asking for help from line agencies such as the National Irrigation Administration, the Department of Agriculture and local government units for the procurement since they no longer have the buffer stocking incentive (BSI).
The BSI was provided by the DA back in 2020 when it carried out an additional PHP3 per kilogram to the NFA's PHP19 buying price and mechanical equipment for farmers' organizations that sell their palay to the agency.
Silva recalled that in 2020 they procured more than 2 million bags as a result of the incentive allowing them to supply the need of Western Visayas during the pandemic when movement restrictions prevented the entry of cargo from outside of the region.
"We are very thankful that during that time we were able to build up our stocks. We were able to send to other areas reaching as far as Basilan and Tawi-Tawi and hundreds of bags to Region 8 (Eastern Visayas), Region 7 (Central Visayas), and Bicol Region (Region 5)," she added.
Silva said that Western Visayas is the strength of Visayas when it comes to food security and rice sufficiency as Eastern Visayas is waiting to be shipped with 30,000 bags of rice while the National Capital Region is also asking for 40,000 bags.
NFA is also eyeing to distribute more or less 50,000 bags for government employees in the region as part of their one-time 25 kilograms rice allowance.
"The guidelines have been released and they already have the prioritization. We are just waiting for the go signal," she added. (PNA)