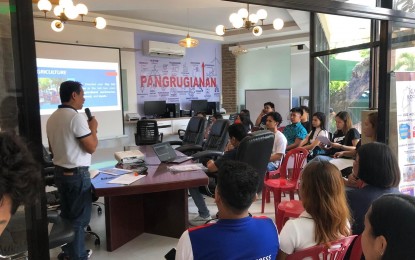 LAOAG CITY – Ilocos Norte's first incubation center serving as a co-working space and one-stop-shop for budding entrepreneurs has been opened in the province.
Located on the second floor of the La Tabacalera Ilokano Lifestyle Center beside the Ilocos Museo, the Micro, Small and Medium Enterprises (MSME) Incubation Center aims to inspire local entrepreneurs to dream big with the all-out support of the provincial government and partner institutions such as the Department of Trade and Industry, Mariano Marcos State University, Department of Science and Technology, Technical Education and Skills Development Authority (TESDA), and Department of Information and Communications Technology (DICT).
Young farmer-entrepreneur Michael Vincent Nicolas Vea of the Vea Eco Farm in Solsona, Ilocos Norte said the incubation center was a big help to them because it unifies and integrates all available services for entrepreneurs.
Aside from providing a physical space for brainstorming and establishing linkages, the center also provides coaching and mentoring sessions.
"We are thankful for this government facility that opens more doors of opportunities for us to improve our products," said Vea on Tuesday, while promoting his pinakbet crispy vegetable crackers.
"We really look forward to this (incubation center) being the impetus of a new era and enterprising culture here in Ilocos Norte. We have entrepreneurs here and we want to actually fortify that culture and capacitate, and help them where they want to go," said Ilocos Norte Governor Matthew Manotoc as he urged entrepreneurs to make use of the facility.
As about 90 percent of local businesses in the province are composed of MSMEs. Manotoc challenged farmer-entrepreneurs to come up with value-adding products by processing their produce to avoid a surplus.
The newly elected officers of the Ilocos Norte Farmers, Processors and Marketing Cooperative vowed to strengthen their association and expand their market reach by joining more trade fairs and exhibits outside the province. (PNA)