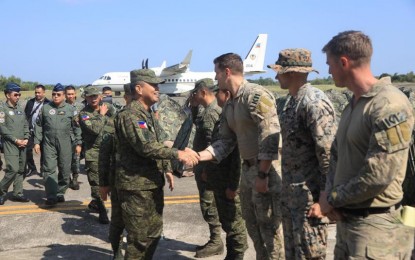 MANILA – Armed Forces of the Philippines (AFP) chief of staff Gen. Andres C. Centino on April 18 visited the newly approved Enhanced Defense Cooperation Agreement (EDCA) sites in Northern Luzon and was briefed on the construction projects being undertaken in one of the new locations.
In a statement late Tuesday, AFP public affairs chief Col. Jorry Baclor said Centino and his delegation consisted of Philippine Air Force head Lt. Gen. Stephen Parreño and Northern Luzon Command (Nolcom) chief Lt. Gen. Fernyl Buca, along with other senior military officials, first visited Lal-lo Airfield in Cagayan which is also one of the "Balikatan" field training exercises staging areas in Northern Luzon.
"The CSAFP (Chief of Staff AFP) and his delegation were briefed on the ongoing projects in the airfield, in line with its development as one of the agreed locations under the EDCA as a prime site for the AFP's territorial defense and humanitarian assistance and disaster response efforts," he added.
No details were given by the AFP regarding the type and specific progress of ongoing projects in Lal-lo Airfield. Centino and his companions were welcomed by Tactical Operations Group 2 commander Col. Sadiri Tabutol.
The Philippines earlier named Naval Base Camilo Osias in Sta. Ana, Cagayan; Lal-lo Airport in Lal-lo, Cagayan; Camp Melchor Dela Cruz in Gamu, Isabela; and Balabac Island in Palawan as additional EDCA locations.
The proposal to add additional EDCA locations was announced by the Philippines and US defense departments last February.
These new locations add to the five EDCA locations earlier picked by Manila and Washington D.C. -- Cesar Basa Air Base in Floridablanca, Pampanga; Fort Magsaysay Military Reservation in Nueva Ecija; Lumbia Airfield in Cagayan de Oro City; Antonio Bautista Air Base in Puerto Princesa City, Palawan; and Benito Ebuen Air Base in Cebu.
After his visit to Lal-lo Airfield, the AFP chief also visited Marine Battalion Landing Team-10 (MBLT-10) of the Philippine Marine Corps at the Naval Base Camilo Osias,
"4th Marine Brigade commander, Brig.Gen. Vicente Mark Anthony Blanco III; commanding officer of MBLT-10, Lt. Col. Rodel Pacifico; and 3rd Littoral Logistics Battalion led by Lt. Col. Mark Lenzi, USMC (United States Marine Corps) welcomed the CSAFP and his party," Baclor said.
Centino's delegation later proceeded to the 5th Infantry Division headquarters in Gamu, Isabela. They were warmly welcomed by 5th Infantry Division Brig. Gen. Danilo Benavides, 503rd Infantry Brigade commander Brig. Gen. Santiago Enginco and Maj. Joe Van Deusen of the US Army's 25th Infantry Division.
During his visit, Centino encouraged the troops assigned to Nolcom to maximize the exercises' opportunities and engagement with their US counterparts.
"It is important that we realize that if we work together with our friends and allies, we will be stronger. Therefore, make the most of these exercises," he added.
Centino earlier said this year's "Balikatan" is the largest in history with a total of 17,680 Filipino, American and Australian participants. The annual exercises started April 11 and will conclude on the 28th. (PNA)