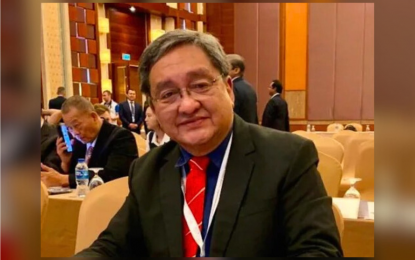 MANILA – Association of Boxing Alliances in the Philippines (ABAP) president Ed Picson passed away on Wednesday. He was 69.
Quinito Henson and Bill Velasco, Picson's former colleagues during their PBA coverage in the 90s, confirmed the news, citing liver cancer as the cause of his death.
"You were always articulate, level-headed, and spoke your mind," Velasco said in a tribute post to Picson.
Henson revealed that Manny Pacquiao offered Picson to return to sportscasting and call the bouts in the revived boxing program Blow By Blow only that he declined.
Picson became ABAP president in 2021 after serving as secretary-general to Ricky Vargas, who would become the national sports association's chairman.
ABAP has yet to make a statement as of posting, although Vargas also confirmed the development.
Big loss
Philippine Olympic Committee (POC) president Bambol Tolentino said the passing of Picson devastated Philippine sports.
"It's a big loss in [the] sports community," the concurrent Tagaytay mayor said in a statement moments after confirmation of Picson's passing.
Tolentino remembers Picson as one of the Philippine sports' hard workers all the more when he moved to the ABAP front office.
"He is a hard-working person in boxing whether as president, secretary-general, or executive director. He's a friend to all, including in the international boxing community," Tolentino further said.
Picson has become a vital presence in Philippine sports since the late 80s as a commentator for the Philippine Basketball Association (PBA) coverage by Vintage Sports.
The PBA paid tribute to Picson prior to Game 5 of the Governors' Cup Finals between Ginebra and TNT by holding a moment of silence a final buzzer ceremony.
Picson later delved into boxing as a play-by-play reporter for the first iteration of Blow By Blow during the mid-90s, witnessing the early days of Manny Pacquiao's illustrious career.
Long after he called it a sportscasting career, he joined ABAP and eventually became the president in 2021. (PNA)