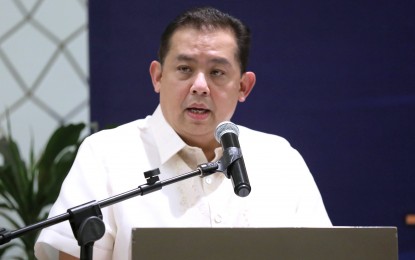 MANILA – House Speaker Ferdinand Martin Romualdez on Thursday vowed to push for the timely passage of laws that are crucial in the economic progress and development of the country.
Romualdez made this statement as he thanked the public for their continued support and trust in his leadership as shown in the latest OCTA Research survey results.
"I would like to assure the public that under my leadership, we will redouble our efforts to prioritize the needs and concerns of the Filipino people. We will press on for the timely passage of laws for progress and development and those meant to address the serious challenges that our nation face," he said in a statement.
Based on Octa Research's Tugon ng Masa (TNM) first quarter 2023 survey conducted on March 24-28, Romualdez obtained 55 percent trust and 59 percent approval ratings, or 15 and 17 percent higher compared to TNM October 2022 polls.
Romualdez said while the House has delivered on its commitment to pass laws advancing the eight-point socioeconomic agenda of President Ferdinand R. Marcos Jr., he and his colleagues will not rest on their laurels.
"This is not just a personal achievement but also a tacit recognition of the tireless efforts of the entire House and the dedication of my fellow lawmakers to pass laws and policies that benefit our country and our people," he said.
House Majority Leader Manuel Jose "Mannix" Dalipe said the increasing public trust and approval ratings of Romualdez have motivated the chamber to work even harder for the expeditious passage of pending bills and other issues affecting the lives of ordinary Filipinos.
"We are proud to have a leader like Speaker Martin. His leadership has restored faith that the House of Representatives truly reflects the will of the people and acts in the best interest of the nation," Dalipe said.
Before going into Lenten break last March 23, Dalipe said the House of Representatives succeeded in approving on third and final reading 23 of 31 bills identified by the Legislative-Executive Development Advisory Council (LEDAC) as priority measures of the Marcos administration.
These 23 approved measures are meant to further stimulate economic activities, create job opportunities, reduce poverty and provide better healthcare services for Filipinos.
Cavite 4th District Rep. Elpidio "Pidi" Barzaga Jr. said Romualdez's high trust and performance ratings are a "genuine reflection" of the hard work of the House of Representatives and its members.
Barzaga said this will certainly inspire the lawmakers to do more, strive better and work harder to serve the Filipino people.
"Survey after survey, we see high ratings for Pres. Ferdinand Marcos Jr. and key officials of the government including our dear House Speaker. Be it satisfaction, approval or trust ratings, the Marcos administration consistently earns high marks!" he added.
The pollster said Marcos gained a high 83 percent trust and 80 percent approval ratings while Vice President Sara Duterte earned 87 percent trust and 84 percent approval ratings based on interviews with 1,200 male and female respondents aged 18 years old and above from Class AB, C, D and E.
The TNM survey also showed that Senate President Juan Miguel Zubiri got 50 percent trust and 53 percent approval ratings, followed by Supreme Court Chief Justice Alexander Gesmundo with 39 percent trust and 41 percent approval ratings.
Among the officials covered by the survey, Romualdez scored the biggest increase in trust rating, or +17 percent compared to the TNM October 2022 survey. He also earned the highest gain in approval rating, or +15 percent, for the two survey periods.
The SWS survey in December also saw the House of Representatives under Romualdez's leadership garnering a high satisfaction rating of +56 percent, ranked as "very good."
"So this is a confirmation. If you consistently score very high in successive surveys that deal with public approval, trust or satisfaction, it confirms you are doing a good job. So I congratulate all the officials who scored high in these surveys," Barzaga said. (PNA)