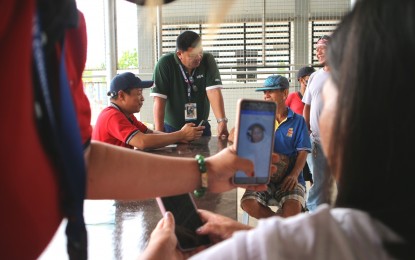 CEBU CITY – Prepaid subscriber identity module (SIM) card holders in Cebu who could not register due to lack of data connectivity have been urged to go to the National Telecommunications Commission's (NTC) regional office in Mandaue City for a "facilitated registration."
NTC 7 (Central Visayas) Enforcement and Operations Division officer in charge, Felipe Gumalo Jr., said their office would set up registration booths on April 25 and 26 for subscribers who do not have data connection in their phones or those SIM cards using analog phones.
"This is NTC's effort to help our people to register in order to prevent their SIM cards from being deactivated after the deadline on April 26," Gumalo said in an interview Thursday.
Representatives of the three major telecommunications companies PLDT-Smart, Globe, and DITO will set up registration touchpoints in the NTC-7 in Barangay Subangdaku, Mandaue City during the two-day activity.
Gumalo's statement came as the Department of Information and Communications Technology (DICT) announced Wednesday that it would not extend the deadline for the SIM registration despite appeals from telcos to extend it by 120 days.
He admitted that a lot of prepaid subscribers in Central Visayas have yet to register their SIM cards despite their "registration caravan" held in many places in Cebu, Negros Oriental, Bohol, and Siquijor.
On Thursday, NTC-7 officials held a facilitated registration activity in the tourism island town of Sta. Fe on Bantayan Island. On Friday, the team will move to the town of Bantayan.
Accordingly, more than 50 percent of the 168 million prepaid subscribers nationwide have yet to register their SIM cards. (PNA)