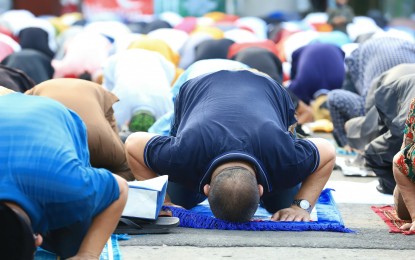 MANILA — President Ferdinand R. Marcos Jr. on Friday called on the Muslim community to embody the values and teachings of Ramadan as he joined in celebrating the Eid'l Fitr or the festival of the breaking of the fast.
"As you culminate the holy month of Ramadan by celebrating the Festival of the Breaking of the Fast, may you sustain the values, teachings, and practices that you have wholeheartedly discerned and embodied throughout this time," he said in his message.
"Let this form the foundations of your characters as you continue to fulfill righteous deeds and strive to live a virtuous life moving toward."
Marcos said the Filipino people join the Muslim community in observing Eid'l Fitr as "we recognize the Islamic faith and embrace it as part of our own collective consciousness."
"With our many faiths informing all our actions and bridging all our differences as a diverse set of peoples, we can transcend any challenge and still remain unified under the banners of camaraderie, respect, and love," he said.
Marcos emphasized the sacredness of the occasion, saying it reflects how Allah rewards those who have demonstrated steadfastness throughout Ramadan.
Ramadan is the ninth month in Islamic calendar, with observation varying between 29 and 30 days depending on the sighting of the crescent moon.
Eid'l Fitr marks the end of the holy month of Ramadan with the Muslim community starting the day with the Eid prayer.
After offering prayer, Muslims greet each other with the customary Eid greeting, Eid Mubarak. (PNA)