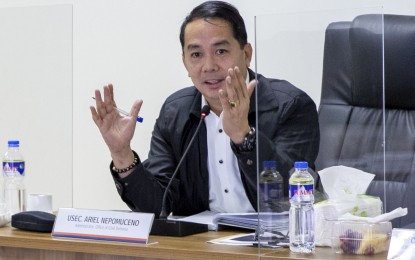 MANILA – There is a need to harmonize interventions planned by the government to address the ill effects of the El Niño phenomenon, Office of Civil Defense (OCD) Administrator Ariel Nepomuceno said Monday.
"There are several points that we need to address. We need to prepare for the possible worst case scenario and identify and harmonize short term solutions, medium term, and long term solutions," he added in a statement.
Earlier, President Ferdinand R. Marcos Jr. issued a directive calling for a whole-of-government and a whole-of-nation approach to prepare for El Niño's impact, which is expected to affect the country from the last quarter of 2023 to the first quarter of 2024.
In line with this, Nepomuceno, who is also the National Disaster Risk Reduction and Management Council (NDRRMC) executive director, said the agency had already formed a team that will help address impacts of the phenomenon following an inter-agency meeting last April 24.
The proposed El Niño team will be led by the Department of the Interior and Local Government (DILG) with the OCD as co-chair; Department of Agriculture (DA), Department of Environment and Natural Resources (DENR), Department of Energy (DOE), Department of Health (DOH), Department of Science and Technology (DOST), Office of Civil Defense (OCD), National Economic and Development Authority (NEDA), National Irrigation Administration (NIA) and Metropolitan Waterworks and Sewerage System (MWSS) as members.
A support team has also been formed composed of the Presidential Communications Office (PCO), Department of Trade and Industry (DTI), National Water Resources Board (NWRB), and Armed Forces of the Philippines (AFP).
The Philippine Atmospheric, Geophysical and Astronomical Services Administration (PAGASA) during the meeting reported that the El Niño phenomenon can be felt as early as June to August 2023 with chances of increasing severity towards the first quarter of 2024.
According to the El Niño forecast, provinces including Abra, Benguet, Ifugao, Kalinga, Metro Manila, Apayao, Mountain Province, Ilocos Sur, La Union, Batanes, Cagayan, Isabela, Quirino, Nueva Ecija, Occidental Mindoro, Oriental Mindoro, Pampanga, Tarlac, Zambales, Laguna, Rizal, Quezon, Albay, and Guimaras may start experiencing below normal rainfall conditions.
The provinces of Ilocos Norte, Bataan and Cavite are now experiencing way below normal rainfall conditions.
The projected impacts of El Niño on other areas including health, energy, environment, and water reservoirs were also tackled in the meeting. (PNA)