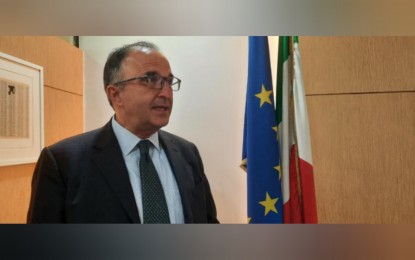 MANILA – Italian Ambassador to the Philippines Marco Clemente is looking forward to another record-high bilateral trade between the two countries this year.
Clemente told the Philippine News Agency (PNA) Tuesday that bilateral trade between Italy and the Philippines in 2022 reached EUR1.24 billion, surpassing the amount of trade pre-pandemic.
In 2019, two-way trade amounted to EUR1.09 billion.
"Bilateral trade ties between Italy and the Philippines have never been better," he said in an interview.
Year-on-year, trade between the two countries increased by 23.9 percent, with Italian exports to the Philippines went up by 21.5 percent while Philippine exports to Italy jumped by 29.1 percent.
"Trade is still skewed toward Italy. We have trade surplus of EUR360 million, but the previous figures clearly show that the Philippines is catching up," Clemente said.
With the coronavirus disease 2019 (Covid-19) restrictions being lifted, the Italian envoy is optimistic about better trade figures this year.
"I can sense the increased interest of the Italian business community," he added.
Clemente said Italy and the Philippines will continue to cooperate in strengthening their economic ties, especially negotiating for a joint economic cooperation. (PNA)