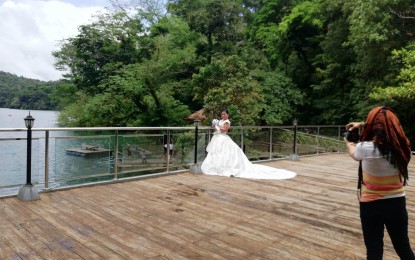 LEGAZPI CITY – The provincial government of Sorsogon on Wednesday said major telecommunication companies in the country have positively responded to the Sangguniang Panlalawigan's request to improve their services, particularly in major tourist destinations.
In a message to the Philippine News Agency, Bobby Gigantone, head of the Sorsogon Provincial Tourism Culture and Arts Office (SPTCAO), said the companies committed to upgrading signals and other services in the province after a committee meeting on Tuesday.
"Representatives from Converge, Globe Telecom, and the Department Of Information And Communications Technology (DICT) Sorsogon City attended a meeting on Tuesday with Sorsogon provincial board members headed by BM (Board Member) Maria Ravanilla, which was fruitful. We will have an ocular and site validation next week," Gigantone said.
Discussed in the meeting was the resolution filed by Ravanilla in the Sangguniang Panglungsod last March, urging telecommunication companies to install additional cellular sites to improve their connectivity within the significant tourist destinations in Sorsogon.
"Telecommunication has become a very effective tool that greatly transformed the tourism sector in all parts of the world where it is now. Therefore, improvement of network signal and connectivity in the major tourist spots in the province is vital for the tourism industry in the province," part of the resolution read.
Gigantone said, "We believed this was a crucial step towards enhancing the tourism industry in our province and making it more accessible to our guests."
In a letter, he said Smart Communications fully supports the provincial board's efforts to improve mobile internet services within its jurisdiction.
Smart noted its ongoing upgrades and future site expansion projects in the towns of Bulusan, Pilar, Matnog, Donsol, Gubat and Sorsogon City.
Early this month, Sorsogon stepped up its tourism promotion through its new campaign using the slogan, "Beautiful Sorsogon! - where beauty is everywhere."
The program aims to promote the province's tourist destinations, local delicacies and handicrafts. (PNA)