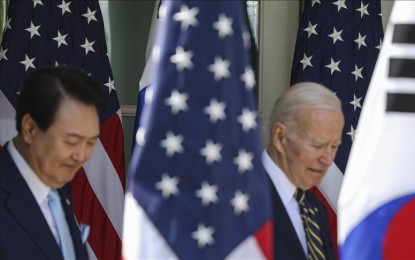 WASHINGTON – The United States and South Korea announced a new deal Wednesday that aims to deter North Korea from using nuclear and ballistic missiles.
The Washington Declaration said the pact was sealed as South Korean President Yoon Suk Yeol paid an official state visit to the White House.
It said the US and South Korea "are committed to peace and stability in the Indo-Pacific, and the measures we take together are in furtherance of that fundamental goal."
Among the actions the two parties agreed on during Yoon's visit are the resumption of US nuclear-armed submarines docking in South Korea for the first time in more than 40 years.
"The United States commits to make every effort to consult with the ROK on any possible nuclear weapons employment on the Korean Peninsula, consistent with the U.S. Nuclear Posture Review's declaratory policy, and the Alliance will maintain robust communication infrastructure to facilitate these consultations," said the Washington Declaration, referring to the Republic of Korea, the country's official name.
Yoon, meanwhile, reaffirmed his country's "longstanding commitment" to the Nuclear Nonproliferation Treaty according to the declaration, which was released by the White House shortly after the Biden-Yoon meeting.
The two leaders also announced the establishment of a new Nuclear Consultative Group (NCG) to "strengthen extended deterrence, discuss nuclear and strategic planning, and manage the threat to the nonproliferation regime" posed by North Korea.
"President Biden reaffirmed that the United States' commitment to the ROK and the Korean people is enduring and ironclad and that any nuclear attack by the DPRK against the ROK will be met with a swift, overwhelming, and decisive response," the statement said, referring to North Korea's official name, the Democratic People's Republic of Korea.
The statement also noted that the Biden administration's commitment to "extend deterrence to the ROK is backed by the full range of US capabilities, including nuclear."
"Going forward, the United States will further enhance the regular visibility of strategic assets to the Korean Peninsula, as evidenced by the upcoming visit of a US nuclear ballistic missile submarine to the ROK, and will expand and deepen coordination between our militaries," it added.
The two countries also agreed to strengthen standing bodies, including the Extended Deterrence Strategy and Consultation Group while South Korea's president affirmed that his country would apply the "full range of its capabilities" to the US-South Korea alliance's combined defense posture.
"In view of these critical developments, President Biden and President Yoon send a firm message to the international community that the United States and the ROK will stand together in the face of any and all threats to their shared security, and continue their close consultations on further steps to strengthen extended deterrence," it said.
Biden and Yoon also agreed to remain "steadfast" in their pursuit of dialogue and diplomacy with North Korea without "preconditions" to advance the "shared goal of achieving the complete denuclearization of the Korean Peninsula." (Anadolu)