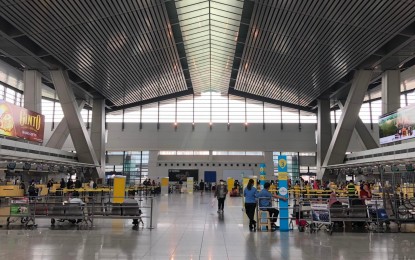 MANILA – House of Representatives Deputy Speaker Ralph Recto on Wednesday acknowledged the move of the Department of Transportation (DOTr) to audit the electrical system of the Ninoy Aquino International Airport (NAIA) after the power outage at Terminal 3 early Monday.
The Batangas lawmaker, however, said a complete check-up of the country's ailing international airport is more appropriate.
"And whatever work to be done should be submitted as one package, so the remedies will not be several 'Band-Aid of cures,' but a wellness package," Recto said.
He said even if this "light bulb moment" had come too late, after the airport had been hit with electrical crashes, it should be treated as an urgent request.
"Every time NAIA is hit with a blackout, the nation gets a black eye," he added.
The NAIA management said it would need PHP1 billion for a new electrical system.
"So, if the promised power system audit would validate that request, then the government should buy it, but not necessarily in the amount floated. Panic buying is the number one procurement sin," he said. "May pera naman kasi (There is fund really). NAIA is a corporate profit center for the government. It is not a charity."
The gross revenues of the Manila International Airport Authority (MIAA), which runs NAIA, in 2019 was PHP15.2 billion.
Of the given amount, PHP1.8 billion were remitted to the National Treasury as the government's share of the profits.
This, Recto said, was aside from the PHP2.2 billion tax payments, adding that despite the big deductions, the MIAA managed to post a net income of PHP5 billion.
"Hindi lang MIAA ang kumikita sa airport operations. Tumitiba rin ang mga ahensyang nag-oopisina sa ating pangunahing paliparan (It's not only MIAA that profits in airport operations. Other agencies that are conducting offices are also raking gains from our primary airport)," he pointed out.
He cited as an example the "travel tax" exacted from departing Filipino passengers in 2019 where the Tourism Infrastructure and Enterprise Zone Authority (TIEZA) collected a whooping PHP7.2 billion.
Recto said the Bureau of Immigration (BI) had also a gross income of PHP10.5 billion in 2019.
He said even the Office for Transportation Security – the ones in charge of the X-ray machines – had collected PHP1.1 billion within a year from Airport Security Fee, which is tucked in with the airline ticket.
"Sabi ng Department of Transportation (DOTR), magkakaroon ang NAIA ng electrical system audit. Kung maraming sakit, bakit hindi gawing complete check-up, para malapatan ng tamang lunas (The DOTR said they are going to have an electrical system audit at the NAIA. If there are many ailments, why not make it a complete check-up, to find the proper cure?)," he said.
Recto noted that because the MIAA is a corporation, there is no need for Congress legislation for them to have the authority to appropriate.
He said DOTR Secretary Jaime Bautista has the experience and the expertise "to undertake NAIA's urgent to-do list – the ones which are not cosmetic, but essential." (PNA)