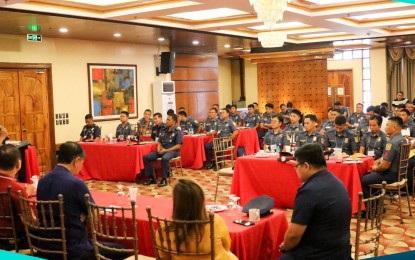 LEGAZPI CITY – The Catanduanes Provincial Tourism Office has rolled out a training program to turn policemen into "tourism ambassadors" aside from ensuring the safety and security of visitors to the province.
In an interview on Wednesday, Carmel Garcia, Catanduanes Tourism Office chief, said at least 40 police officers from the province are undergoing a five-day Integrated Tourist-Oriented Police for Community Order and Protection program training starting on Tuesday at E-Crown Hotel in Virac town.
"The 40 participants will not just be police responders but they will also be tourist guides. We want to strengthen the safety and security given to our local or foreign tourists. By fostering a safer and more welcoming environment for tourists, this training program will be essential in enhancing the competitiveness of our tourism industry, promoting local economic growth, and will also strengthen the relationship between the police and the community. The program also seeks to enhance police visibility and engagement with tourists and locals," Garcia said.
She said the police officers who will complete the training will be deployed in areas with high tourism arrivals and traffic.
"It is also important to equip our police personnel with the latest information and trends in the tourism industry to ensure the safety, welfare, and satisfaction of our tourists. They will also be trained on handling tourist-related situations," she added.
Garcia said the police officers will be given an overview of the country's tourism industry.
"They will learn national, regional, provincial, and local levels in the tourism industry, the current trends and culture in tourism, local history, and culture, tourist safety and security, Filipino brand of service, basic life support, first aid and common emergencies," she said.
Meanwhile, Garcia said their preparations are now in full swing for the celebration of the 7th Abaca Festival on the last week of May with the theme "Talubo Abaca, Sulong Islang Maogma".
"We are in the finalization stage of the calendar of events. Tomorrow, all the municipal tourism officers of the 11 municipalities will have a meeting. We will also have a travel expo showcasing the different tourist destinations in the province. An Abaca Lakbay Day where we will showcase all about abaca," she said.
Catanduanes is popular for its white beaches and lush mountains. (PNA)