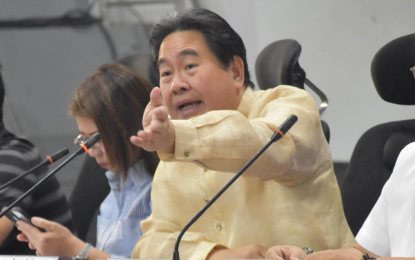 MANILA – Cagayan de Oro 2nd district Rep. Rufus Rodriguez on Wednesday said the "aggressive, harassment and bullying activities" of China in the West Philippine Sea (WPS) "are pushing our country to be closer to its long-time ally, the United States."
"The US is our only defense treaty ally. They are bound to come to our defense under our 1951 Mutual Defense Treaty. US officials have repeatedly declared that their obligations under the treaty would kick in the moment a foreign power attacked us, including in the South China Sea," he said, adding that it is quite very reassuring.
Rodriguez believes that most Filipinos support the decision of President Ferdinand R. Marcos Jr. to cultivate again the friendly relations that had existed between the Philippines and the US during the time of his late father, President Marcos Sr.
"Those ties have been disrupted by the ouster of the US military bases during the Aquino administration and by the previous government's so-called 'China pivot'," he stressed.
He pointed out that despite the efforts of then President Duterte to hammer out closer ties between Manila and Beijing, the country "received only empty promises of assistance and loans that did not materialize from China."
"Chinese harassment and bullying of our Coast Guard patrols and fishermen continued inside our own 200-mile exclusive economic zone in the West Philippine Sea, from Pangasinan and Zambales in the north to Palawan in the south," he said.
He noted that toward the end of his term, Duterte was so frustrated that he ordered the termination of negotiations for some Chinese loans.
Rodriguez lauded President Marcos Jr. for securing defense and economic commitments from the US government during his meeting with US President Joe Biden in Washington D.C. on Monday.
"We likewise welcome the assurances of President Biden and President Marcos that diplomatic and economic ties between the Philippines and the US would be further strengthened, and that the US would continue to assist the Philippines, especially in the area of defense and security," he said.
He also commended Speaker Martin Romualdez for helping the Chief Executive forge closer relations with the US.
The newest assistance the US promised Marcos includes transport planes and patrol vessels. Biden also committed to send a trade-investment mission to Manila.
Earlier, Rodriguez has urged Marcos to recall the country's ambassador to Beijing in protest over the recent "David vs. Goliath" near-collision between a Chinese Coast Guard ship and a Philippine Coast Guard (PCG) patrol vessel. (PNA)