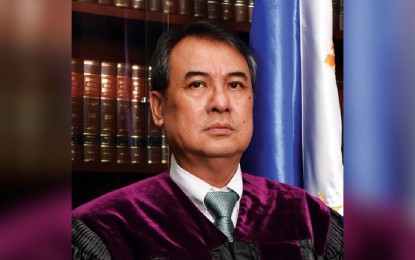 MANILA – Supreme Court (SC) Chief Justice Alexander Gesmundo on Wednesday assured the public that the high court would back the protection of individual rights as it ensures measures to protect public safety under special court rules being drafted for the full implementation of Republic Act (RA) 11479 or the Anti-Terrorism Act (ATA) of 2022.
Speaking during the dialogue with the SC on the proposed judicial rules for anti-terrorism and counter-terrorism financing cases in Cebu City, Gesmundo emphasized the court's role, saying, "We must balance the need for security with the protection of individual rights and freedoms. True to its mandate, the Supreme Court is here to ensure that any measure in this regard will be based only on clear legal authority and must adhere strictly to proper procedure."
"With the rapid advancement of technology, we recognize the need to allow a more proactive approach to security to prevent terrorist activities. While we accept the necessity for urgent and enhanced security measures, these must be done within the confines of the law, with proper checks and balances, to guarantee that there is no undue or excessive intrusion to our rights and freedoms," he added.
In 2021, the SC upheld the validity of the ATA except for two provisions of the law. Aside from a portion of Section 4 and a portion of Section 25, all the other challenged provisions of RA 11479 are "not unconstitutional."
Section 4 deals with excluding mass actions and similar exercises of civil and political rights from the definition of terrorism, while Section 25 is about requests by foreign agencies or bodies to designate persons as terrorists and terrorist organizations.
The SC voted 12-3 to declare as unconstitutional the qualifier portion of Section 4 which states "which are not intended to cause death or serious physical harm to a person, to endanger a person's life, or to create a serious risk to public safety."
This qualifier to the proviso in Section 4 "is declared as unconstitutional for being overbroad and violative of freedom of expression," the court said.
Likewise stricken down by a vote of 9-6 was a portion of Section 25, paragraph 2, which allows a "request for designations by other jurisdictions or supranational jurisdictions (to) be adopted by the ATC (Anti-Terrorism Council) after determination that the proposed designee meets the criteria for designation of UNSCR (United Nations Security Council Resolution) No. 1373."
The head of the SC's ad hoc committee for the formulation of the special rules of procedure on anti-terrorism drafting the rules is retired Chief Justice Reynato Puno and is being undertaken with the assistance of the United Nations Office on Drugs and Crime and aims to protect the public's right to life and safety and the individual civil liberties.
The proposed rules will be submitted for approval by the SC.
"Now, no longer is the Court passive and reactive in the enforcement of our constitutional rights, it has, through the promulgation of rules, become pro-active in protecting these rights," Gesmundo said. (PNA)